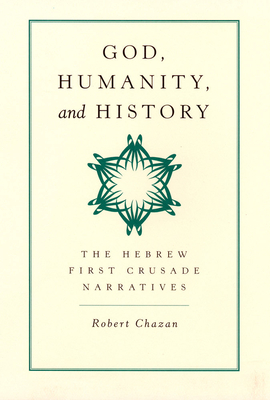 God, Humanity, and History
The Hebrew First Crusade Narratives
Hardcover

* Individual store prices may vary.
Description
Although closely focused on the remarkable Hebrew First-Crusade narratives, Robert Chazan's new interpretation of these texts is anything but narrow, as his title, God, Humanity, and History, strongly suggests. The three surviving Hebrew accounts of the crusaders' devastating assaults on Rhineland Jewish communities during the spring of 1096 have been examined at length, but only now can we appreciate the extent to which they represent their turbulent times.

After a close analysis of the texts themselves, Chazan addresses the objectives of the three narratives. He compares these accounts with earlier Jewish history writing and with contemporary crusade historiography. It is in their disjuncture with past forms of Jewish historical narration and their amazing parallels with Latin crusade narratives that the Hebrew narratives are most revealing. We see how they reflect the embeddedness of early Ashkenazic Jewry in the vibrant atmosphere of late-eleventh- and early-twelfth-century northern Europe.
University of California Press, 9780520221277, 281pp.
Publication Date: August 9, 2000
About the Author
Robert Chazan, winner of the National Foundation for Jewish Culture Career Achievement Award in Jewish History, is Scheuer Professor of Hebrew and Judaic Studies at New York University. Among his previous books are four published by California: Medieval Stereotypes and Modern Antisemitism (1997), Barcelona and Beyond (1992), Daggers of Faith (1989), and European Jewry and the First Crusade (1987).