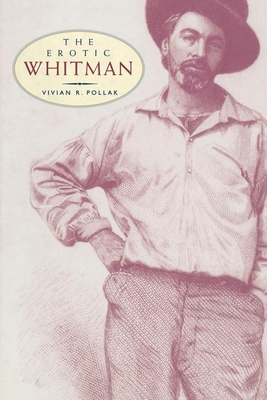 The Erotic Whitman (Paperback)
University of California Press, 9780520221901, 285pp.
Publication Date: August 4, 2000
* Individual store prices may vary.
Description
In this provocative analysis of Whitman's exemplary quest for happiness, Vivian Pollak skillfully explores the intimate relationships that contributed to his portrayal of masculinity in crisis. She maintains that in representing himself as a characteristic nineteenth-century American and in proposing to heal national ills, Whitman was trying to temper his own inner conflicts as well.

The poet's expansive vision of natural eroticism and of unfettered comradeship between democratic equals was, however, only part of the story. As Whitman waged a conscious campaign to challenge misogynistic and homophobic literary codes, he promoted a raceless, classless ideal of sexual democracy that theoretically equalized all varieties of desire and resisted none. Pollak suggests that this goal remains imperfectly achieved in his writings, which liberates some forbidden voices and silences others.

Integrating biography and criticism, Pollak employs a loosely chronological organization to describe the poet's multifaceted "faith in sex." Drawing on his early fiction, journalism, poetry, and self-reviews, as well as letters and notebook entries, she shows how in spite of his personal ambivalence about sustained erotic intimacy, Whitman came to imagine himself as "the phallic choice of America."


About the Author
Vivian R. Pollak is Professor of English at Washington University, St. Louis, and is the editor of New Essays on James's Daisy Miller and The Turn of the Screw (1992) and A Poet's Parents: The Courtship Letters of Emily Norcross and Edward Dickinson (1988), and author of Dickinson: The Anxiety of Gender (1984).