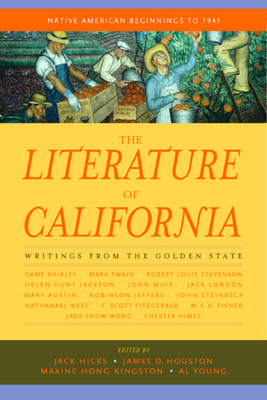 The Literature of California, Volume 1 (Paperback)
Native American Beginnings to 1945
University of California Press, 9780520222120, 653pp.
Publication Date: December 5, 2000
* Individual store prices may vary.
Description
The Literature of California is a landmark publication—unmatched by any existing collection and distinguished by its breadth, variety of sources, and historical sweep. The editors have been refreshingly inclusive and imaginative in their selection: some of the writers are internationally known, others are anthologized here for the first time. The richness of material, ranging from Native American origin myths to Hollywood novels dissecting the American Dream; from the familiar voices of John Steinbeck, Jack London, and William Saroyan to the less-well-known narratives of Maria Amparo Ruiz de Burton, Josephine Miles, and Jade Snow Wong—all of it captures the spirit and scope of the state itself.

This anthology is divided into four parts. The first includes stories, legends, and songs of the indigenous tribes. The second section comprises letters, diaries, reports, and travel narratives that trace a century of exploration, discovery, and conquest. Part III includes Mother Lode tales by Mark Twain and Bret Harte, the first signs of California poetry, the rise of narrative by California women, the nature writing of John Muir and Mary Austin, and some of the earliest prose from writers of Asian background, as well as the maturing fiction of Jack London and Frank Norris. Part IV traces the period between the World Wars, when California literature came fully into its own.

A lively introduction contextualizes each section, and concise biographical material is included for each writer. A colossal contribution to the culture of the state, The Literature of California broadens our sense of this region's richness, both past and present, offering new ways of perceiving history, community, and oneself.
About the Author
Jack Hicks teaches California literature and directs the Graduate Creative Program at the University of California, Davis. James D. Houston's seven books of fiction/nonfiction include Continental Drift (California, 1996) and The Last Paradise (1998), which won the American Book Award. Maxine Hong Kingston is the author of The Woman Warrior (1976), China Men (1980), and Tripmaster Monkey (1989). An early draft of her fourth novel, The Fifth Book of Peace, was destroyed in a fire; the restored version will be published in 2000-2001. Al Young's twenty books include African American literary anthologies, memoirs, collections of poetry, and the novels Sitting Pretty (1976) and Who Is Angelina? (California, 1996).