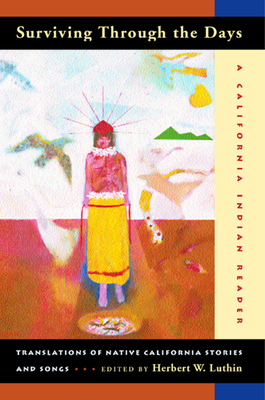 Surviving Through the Days (Paperback)
Translations of Native California Stories and Songs
University of California Press, 9780520222700, 651pp.
Publication Date: June 26, 2002
* Individual store prices may vary.
Description
This anthology of treasures from the oral literature of Native California, assembled by an editor admirably sensitive to language, culture, and history, will delight scholars and general readers alike. Herbert Luthin's generous selection of stories, anecdotes, myths, reminiscences, and songs is drawn from a wide sampling of California's many Native cultures, and although a few pieces are familiar classics, most are published here for the first time, in fresh literary translations. The translators, whether professional linguists or Native scholars and storytellers, are all acknowledged experts in their respective languages, and their introductions to each selection provide welcome cultural and biographical context. Augmenting and enhancing the book are Luthin's engaging, informative essays on topics that range from California's Native languages and oral-literary traditions to critical issues in performance, translation, and the history of California literary ethnography.
About the Author
Herbert W. Luthin is an Associate Professor in the English Department at Clarion University.