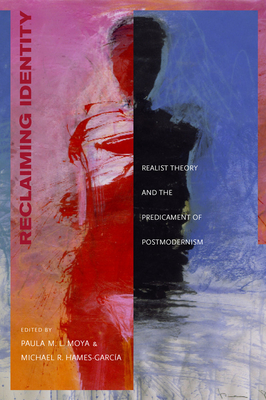 Reclaiming Identity
Realist Theory and the Predicament of Postmodernism
Paperback

* Individual store prices may vary.
Description
"Identity" is one of the most hotly debated topics in literary theory and cultural studies. This bold and groundbreaking collection of ten essays argues that identity is not just socially constructed but has real epistemic and political consequences for how people experience the world. Advocating a "postpositivist realist" approach to identity, the essays examine the ways in which theory, politics, and activism clash with or complement each other, providing an alternative to the widely influential postmodernist understandings of identity. Although theoretical in orientation, this dynamic collection deals with specific social groups—Chicanas/os, African Americans, gay men and lesbians, Asian Americans, and others—and concrete social issues directly related to race, ethnicity, sexuality, epistemology, and political resistance.

Satya Mohanty's brilliant exegesis of Toni Morrison's Beloved serves as a launching pad for the collection. The essays that follow, written by prominent and up-and-coming scholars, address a range of topics—from the writings of Cherrie Moraga, Franz Fanon, Joy Kogawa, and Michael Nava to the controversy surrounding racial program housing on college campuses—and work toward a truly interdisciplinary approach to identity.


University of California Press, 9780520223493, 364pp.
Publication Date: December 14, 2000
About the Author
Paula M. L. Moya is Assistant Professor of English at Stanford University. Michael R. Hames-Garcia is Assistant Professor of English at SUNY Binghamton.