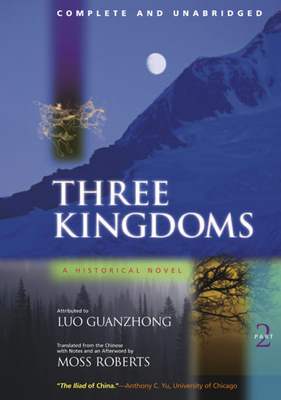 Three Kingdoms, A Historical Novel
Complete and Unabridged
Paperback

* Individual store prices may vary.
Description
Three Kingdoms tells the story of the fateful last reign of the Han dynasty (206 b.c.-a.d. 220), when the Chinese empire was divided into three warring kingdoms. This decisive period in Chinese history became a subject of intense and continuing interest to historians, poets, and dramatists. Writing some 1,200 years later, the Ming author Luo Guanzhong drew on this rich literary heritage to fashion a sophisticated, compelling narrative that has become the Chinese national epic. Luo's novel offers a startling and unsparing view of how power is wielded, how diplomacy is conducted, and how wars are planned and fought; it has influenced the ways the Chinese think about power, diplomacy, and war even to this day. As important for Chinese culture as the Homeric epics have been for the West, this Ming dynasty masterpiece continues to be widely influential in China, Japan, Korea, and Vietnam, and remains a great work of world literature. The University of California Press is pleased to make the complete and unabridged translation available again.
Praise For Three Kingdoms, A Historical Novel: Complete and Unabridged…
"A material epic with an astonishing fidelity to history, which has been translated into lively English by Moss Roberts. . . . The subject matter of Three Kingdoms has long held an extraordinary grip on the Chinese imagination. . . . No less an authority than Mao Zedong asserted that when he set out on the campaigns that would ultimately bring him to power, Three Kingdoms was the book he valued most."
— New York Times Book Review

"[Roberts] is the perfect author to present a balanced combination of the most famous, exciting, and beautiful scenes, along with those parts that are necessary for following the plot. . . . [He] has succeeded . . . in creating an absorbing version of the book that is great fun to read."
— China Review International

"Roberts has managed to achieve a rare feat in producing a translation that is not only a fine example of meticulous scholarly translation, but that is at the same time also a highly entertaining novel which should be a delight to readers with or without any prior knowledge of Chinese literature."
— Chinese Literature: Essays, Articles, Reviews
University of California Press, 9780520225039, 560pp.
Publication Date: June 14, 2004
About the Author
Luo Guanzhong (c. 1330-c. 1400) was a novelist and dramatist who played an important role in the development of Chinese popular fiction.

Moss Roberts is Professor of Chinese at New York University. He is the translator and editor of Chinese Fairy Tales and Fantasies (1979).

John S. Service (1909 - 1999) grew up in China and was a Foreign Service officer there from 1933 to 1945.