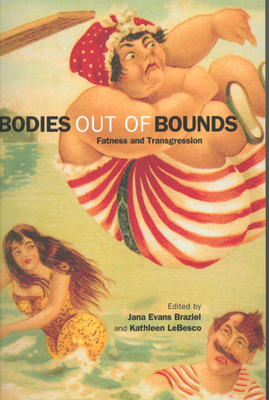 Bodies out of Bounds
Fatness and Transgression
Paperback

* Individual store prices may vary.
Description
Since World War II, when the diet and fitness industries promoted mass obsession with weight and body shape, fat has been a dirty word. In the United States, fat is seen as repulsive, funny, ugly, unclean, obscene, and above all as something to lose. Bodies Out of Bounds challenges these dominant perceptions by examining social representations of the fat body. The contributors to this collection show that what counts as fat and how it is valued are far from universal; the variety of meanings attributed to body size in other times and places demonstrates that perceptions of corpulence are infused with cultural, historical, political, and economic biases. The exceptionally rich and engaging essays collected in this volume question discursive constructions of fatness while analyzing the politics and power of corpulence and addressing the absence of fat people in media representations of the body.

The essays are widely interdisciplinary; they explore their subject with insight, originality, and humor. The contributors examine the intersections of fat with ethnicity, race, queerness, class, and minority cultures, as well as with historical variations in the signification of fat. They also consider ways in which "objective" medical and psychological discourses about fat people and food hide larger agendas. By illustrating how fat is a malleable construct that can be used to serve dominant economic and cultural interests, Bodies Out of Bounds stakes new claims for those whose body size does not adhere to society's confining standards.
University of California Press, 9780520225855, 368pp.
Publication Date: September 13, 2001
About the Author
Jana Evans Braziel is Assistant Professor of English at the University of Wisconsin, La Crosse. Kathleen LeBesco is Assistant Professor in the Communication Arts Department at Marymount Manhattan College.