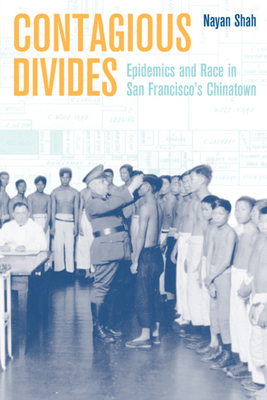 Contagious Divides
Epidemics and Race in San Francisco's Chinatown (American Crossroads #7)
Paperback

* Individual store prices may vary.
Description
Contagious Divides charts the dynamic transformation of representations of Chinese immigrants from medical menace in the nineteenth century to model citizen in the mid-twentieth century. Examining the cultural politics of public health and Chinese immigration in San Francisco, this book looks at the history of racial formation in the U.S. by focusing on the development of public health bureaucracies.

Nayan Shah notes how the production of Chinese difference and white, heterosexual norms in public health policy affected social lives, politics, and cultural expression. Public health authorities depicted Chinese immigrants as filthy and diseased, as the carriers of such incurable afflictions as smallpox, syphilis, and bubonic plague. This resulted in the vociferous enforcement of sanitary regulations on the Chinese community. But the authorities did more than demon-ize the Chinese; they also marshaled civic resources that promoted sewer construction, vaccination programs, and public health management.

Shah shows how Chinese Americans responded to health regulations and allegations with persuasive political speeches, lawsuits, boycotts, violent protests, and poems. Chinese American activists drew upon public health strategies in their advocacy for health services and public housing. Adroitly employing discourses of race and health, these activists argued that Chinese Americans were worthy and deserving of sharing in the resources of American society.
Praise For Contagious Divides: Epidemics and Race in San Francisco's Chinatown (American Crossroads #7)…
"This striking book asks provocative questions and seamlessly weaves together narratives central to the history of race, Asian Americans, urban politics, public health, and citizenship. . . . Using an array of sources and theoretical frameworks, Contagious Divides is an extremely important, original, and engaging book. It offers us a striking new vantage point from which to view racial formation, the role of the state, and public health in marking exclusion and inclusion in the United States." 
— Journal of American History
"Deftly threading several potent concepts pertaining to modernity, liberal democracy, and citizenship, Shah's monograph stakes out an original, highly imaginative, and rewarding approach to apprehending both the microcosm of San Francisco's Chinatown and the history of Chinese and Chinese Americans in the United States."
— H-Net
"Through his study of the interconnections between epidemics, public health, and the Chinese community, Nayan Shah provides new insights into the reasons for both this repulsion and fascination. Contagious Divides, which covers nearly a century in the history of the city's Chinese community, allows the reader to assess the emergence of the Chinese as a medical threat as well as their gradual transformation into model citizens. . . . This informative book illuminates an important chapter in the history of American culture. . . . Shah's work reflects meticulous scholarship." 
— Journal of the History of Medicine and Allied Sciences
"The author draws on an impressive variety of sources, including English-language newspapers, published rumors, pictures, letters, poems, oral histories, and public health reports. Moreover, Shah adroitly engages with queer and postcolonial theories and with histories of public health in Africa and Asia."
— Isis
"Contagious Divides is an important and interesting book, and (beyond the obvious audiences) will be useful to readers interested in discourses of science and public policy, and to those interested in racialized constructions of the body, the family, or the home."
— Journal of American Culture
"An interesting development in writing the history of modern public health has recently emerged: it is being linked closely to the history of racial thought and administration. . . . Nayan Shah's Contagious Divides is the first book-length study of the idea, and a fine study it is. . . . One can expect Contagious Divides to be noticed within American historiography. Within the history of public health it will be a fine example of the dovetailing of several previously disparate literatures"
— Metascience
"Shah's history of race and epidemics in San Francisco offers us constructive criticism for present and future wars on disease and a cautionary tale of hope for tolerance."
— American Quarterly
University of California Press, 9780520226296, 400pp.
Publication Date: October 29, 2001
About the Author
Nayan Shah is Professor of American Studies and Ethnicity and History at the University of Southern California and the author of Stranger Intimacy: Contesting Race, Sexuality and the Law in the North American West (UC Press).