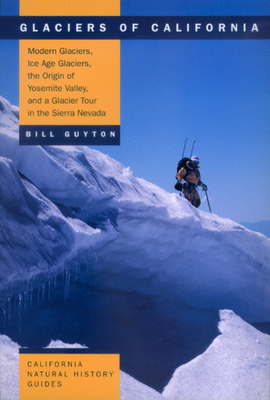 Glaciers of California (Paperback)
Modern Glaciers, Ice Age Glaciers, the Origin of Yosemite Valley, and a Glacier Tour in the Sierra Nevada (California Natural History Guides #59)
University of California Press, 9780520226838, 223pp.
Publication Date: January 19, 2001
* Individual store prices may vary.
Description
Glaciers in sunny California? Many people will be surprised to learn that there are several hundred in this state, ranging in size from the impressive Whitney Glacier on Mt. Shasta and the Palisade Glacier in the Sierra Nevada to tiny glacierets. While California's glaciers are small compared to those in the northern Rockies or the European Alps, each one is interesting and some are suitable for exploring. Also of note is the fact that Ice Age glaciers carved California's most spectacular mountain scenery—the High Sierra was glaciated several times and glacial landforms are prominent features of the Sierran landscape today.

Bill Guyton summarizes the history of the discovery of Ice Age glaciation and modern-day glaciers in California, as well as the development of modern ideas about the state's glacial history. He describes the controversy about the origin of Yosemite Valley and quotes from the colorful accounts of early mountain explorers such as John Muir, Josiah Whitney, and François Matthes. His book provides a primer on glaciers and glacial landforms, a glossary of technical terms, helpful illustrations, and a 100-mile Sierra field trip guide for readers who want to see glaciers and glacial features for themselves. Glaciers of California will make any visit to the mountains more interesting, whether one is carrying a camera, crampons, or a fishing pole.
About the Author
Bill Guyton is Professor Emeritus of Geosciences at California State University at Chico. He has hiked, backpacked, fished, and climbed in the High Sierra for over 45 years.
or
Not Currently Available for Direct Purchase