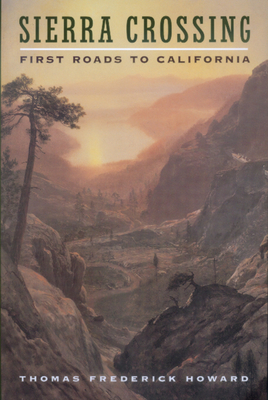 Sierra Crossing
First Roads to California
Paperback

* Individual store prices may vary.
Description
A critical era in California's history and development—the building of the first roads over the Sierra Nevada—is thoroughly and colorfully documented in Thomas Howard's fascinating book. During California's first two decades of statehood (1850-1870), the state was separated from the east coast by a sea journey of at least six weeks. Although Californians expected to be connected with the other states by railroad soon after the 1849 Gold Rush, almost twenty years elapsed before this occurred. Meanwhile, various overland road ventures were launched by "emigrants," former gold miners, state government officials, the War Department, the Interior Department, local politicians, town businessmen, stagecoach operators, and other entrepreneurs whose alliances with one another were constantly shifting. The broad landscape of international affairs is also a part of Howard's story.

Constructing roads and accumulating geographic information in the Sierra Nevada reflected Washington's interest in securing the vast western territories formerly held by others. In a remarkably short time the Sierra was transformed by vigorous exploration, road-promotion, and road-building. Ox-drawn wagons gave way to stagecoaches able to provide service as fine as any in the country. Howard effectively uses diaries, letters, newspaper stories, and official reports to recreate the human struggle and excitement involved in building the first trans-Sierra roads. Some of those roads have become modern highways used by thousands every day, while others are now only dim traces in the lonely backcountry.
University of California Press, 9780520226869, 227pp.
Publication Date: October 18, 2000
About the Author
Thomas Frederick Howard is Associate Professor of Geography at Armstrong Atlantic State University in Savannah, Georgia.