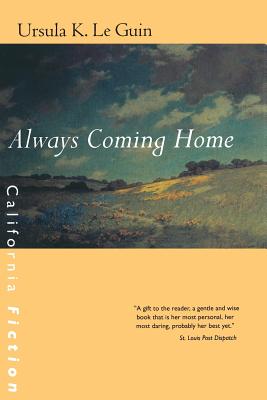 Always Coming Home (California Fiction) (Paperback)
University of California Press, 9780520227354, 534pp.
Publication Date: February 27, 2001
Other Editions of This Title:
Mass Market Paperback (12/1/1986)
Paperback (9/1/2008)
* Individual store prices may vary.
Description
Ursula Le Guin's Always Coming Home is a major work of the imagination from one of America's most respected writers of science fiction. More than five years in the making, it is a novel unlike any other. A rich and complex interweaving of story and fable, poem, artwork, and music, it totally immerses the reader in the culture of the Kesh, a peaceful people of the far future who inhabit a place called the Valley on the Northern Pacific Coast.
About the Author
Ursula K. Le Guin is the author of novels, children's books, short stories, critical writings, and poetry. She is the winner of the National Book Award and the Nebula and Hugo awards for science fiction. She grew up in Berkeley and the Napa Valley and now lives in Portland, Oregon. Her most recent book is The Telling (2000).
Praise For Always Coming Home (California Fiction)…
"With high invention and deep intelligence, Always Coming Home presents, in alternating narratives, poems and expositions, Ursula K. Le Guin's most consistently lyric and luminous book in a career adorned with some of the most precise and passionate prose in the service of a major imaginative vision."
— New York Times
"A remarkable book."
— Tor.com
"One of Le Guin's most fascinating and underrated works: a sprawling exploration of a fictional people known as the Kesh, who lived in northern California hundreds of years in the future. . . . A novel, a scrapbook and an imaginary anthropological study in one . . . crammed with maps, stories, songs, recipes, poetry, charts and language guides."
— Guardian
"Le Guin here focuses her inimitable world-building skills on two conflicting societies of the future—implying, of course, their relevance to the present . . . no one does this type of utopian near-allegory better."
— Kirkus Reviews