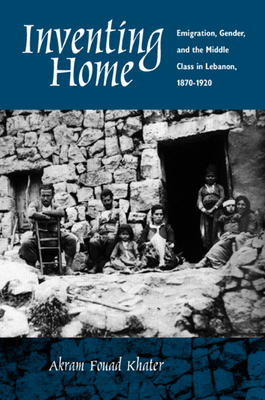 Inventing Home
Emigration, Gender, and the Middle Class in Lebanon, 1870-1920
Paperback

* Individual store prices may vary.
Description
Between 1890 and 1920 over one-third of the peasants of Mount Lebanon left their villages and traveled to the Americas. This book traces the journeys of these villagers from the ranks of the peasantry into a middle class of their own making.

Inventing Home delves into the stories of these travels, shedding much needed light on the impact of emigration and immigration in the development of modernity. It focuses on a critical period in the social history of Lebanon--the "long peace" between the uprising of 1860 and the beginning of the French mandate in 1920. The book explores in depth the phenomena of return emigration, the questioning and changing of gender roles, and the rise of the middle class. Exploring new areas in the history of Lebanon, Inventing Home asks how new notions of gender, family, and class were articulated and how a local "modernity" was invented in the process.

Akram Khater maps the jagged and uncertain paths that the fellahin from Mount Lebanon carved through time and space in their attempt to control their future and their destinies. His study offers a significant contribution to the literature on the Middle East, as well as a new perspective on women and on gender issues in the context of developing modernity in the region.
Praise For Inventing Home: Emigration, Gender, and the Middle Class in Lebanon, 1870-1920…
"An easily readable and entertaining tale that will fascinate and delight not only Lebanese and other Middle Eastern immigrants to Amrika, but emigrants and immi grants anywhere, and most certainly students of migration."
— International Migration Review

"Inventing Home would be a worthwhile addition both to a university research library and to the personal libraries of those specializing in the history of Lebanon and of the Lebanese diaspora. . . . well written and its scholarship is thorough."
— Middle East Journal

"Akram Fouad Khater breaks new ground in Lebanese history by locating it within a broader, transregional literature on modernity, class formation, and gender."
— American Historical Review
University of California Press, 9780520227408, 271pp.
Publication Date: October 30, 2001
About the Author
Akram Fouad Khater is Associate Professor of Middle Eastern History at North Carolina State University.