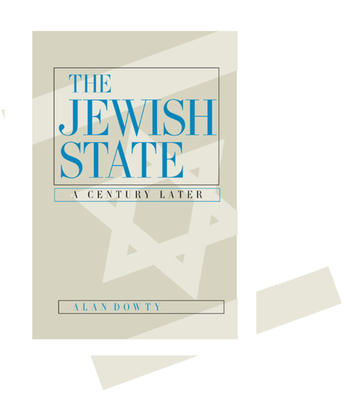 The Jewish State (Paperback)
A Century Later, Updated With a New Preface
University of California Press, 9780520229112, 371pp.
Publication Date: June 1, 2001
* Individual store prices may vary.
Description
As the fiftieth anniversary of Israeli statehood approaches, along with the commemoration of the hundredth anniversary of the World Zionist Organization, the question of what is meant by a "Jewish" state is particularly timely. Alan Dowty takes on that question in a book that is admirable for its clarity and its comprehensive interpretation of the historical roots and contemporary functioning of Israel.

Israeli nationhood, democracy, and politics did not unfold in a social or political vacuum, but developed from power-sharing practices in pre-state Jewish communities in Palestine and in Eastern Europe. Dowty elucidates the broad cluster of cultural, historical, and ideological tenets which came to comprise Israel's contemporary political system. He demonstrates that such tenets were not arbitrary but in fact developed logically from Jewish political habits and the circumstances of time. Dowty illustrates how these traditions are balanced with those of ideology and modernization, and he provides an integrated, sophisticated analysis of the Israeli nation's formation and present state.

Dowty also proposes thoughtful answers to puzzles regarding the strengths and weaknesses of Israeli democracy in responding to the challenges of communal divisions, religious contention, the country's non-Jewish minority, and accommodation with the Palestinians. The Jewish State will be invaluable for anyone looking for that one book that gives an intelligent overview of both Israel today and of its origins.
About the Author
Alan Dowty is Professor of Government and International Studies at the University of Notre Dame and Fellow at Notre Dame's Kroc Institute for International Peace Studies. His earlier books include Middle East Crisis (California, 1984) and Closed Borders: The Contemporary Assault on Freedom of Movement (1987).