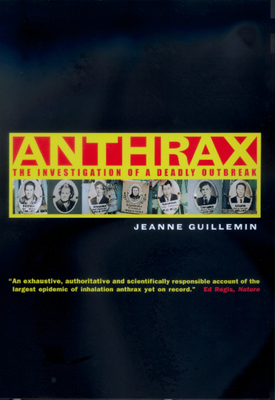 Anthrax
The Investigation of a Deadly Outbreak
Paperback

* Individual store prices may vary.
Description
In April of 1979 the city of Sverdlovsk in Russia's Ural Mountains was struck by a frightening anthrax epidemic. Official Soviet documents reported sixty-four human deaths resulting from the ingestion of tainted meat sold on the black market, but U.S. intelligence sources implied a different story, and the lack of documentation left unresolved questions. In her riveting investigation of the incident, Jeanne Guillemin unravels the mystery of what really happened during that tragic event in Sverdlovsk.

Anthrax is a virulent and deadly bacteria whose spores can remain in soil for as long as seventy years, killing grazing animals and putting humans in jeopardy of eating infected meat. Contemporary concern is more centered on anthrax as an airborne biological weapon whose inhaled spores can result in ninety percent mortality for those infected.

As part of a team of doctors and researchers, Jeanne Guillemin traveled to Russia in 1992 to determine the cause and extent of the epidemic. Her affecting narrative transforms a case of epidemiological investigation into a politically charged mystery. She creates a vivid sense of immediacy and drama with her insider's account of the team's investigative work—the analysis of pathology photos and slides, meetings with political and public health officials, the retrieval of essential medical data—and candidly reveals the subjective side of science as she conducts interviews with afflicted families, visits sites, and interacts with those suspected of clouding the truth.

Complete with medical case information and three epidemiological maps, this classic account relates directly to growing concern over bioterrorism and how the United States and other nations should respond. In the final chapters Guillemin surveys past and present covert biological weapons arsenals scattered around the world and the international legal efforts to eliminate them.
University of California Press, 9780520229174, 339pp.
Publication Date: December 14, 1999
About the Author
Jeanne Guillemin is Professor of Sociology at Boston College and a senior fellow at the Security Studies Program at the Massachusetts Institute of Technology.