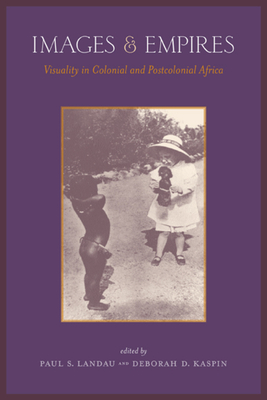 Images and Empires (Paperback)
Visuality in Colonial and Postcolonial Africa
University of California Press, 9780520229495, 396pp.
Publication Date: October 28, 2002
* Individual store prices may vary.
Description
Figurative images have long played a critical, if largely unexamined, role in Africa—mediating relationships between the colonizer and the colonized, the state and the individual, and the global and the local. This pivotal volume considers the meaning and power of images in African history and culture. Paul S. Landau and Deborah Kaspin have assembled a wide-ranging collection of essays dealing with specific visual forms, including monuments, cinema, cartoons, domestic and professional photography, body art, world fairs, and museum exhibits. The contributors, experts in a number of disciplines, discuss various modes of visuality in Africa and of Africa, investigating the interplay of visual images with personal identity, class, gender, politics, and wealth.

Integral to the argument of the book are over seventy contextualized illustrations. Africans saw foreigners in margarine wrappers, Tintin cartoons, circus posters, and Hollywood movies; westerners gleaned impressions of Africans from colonial exhibitions, Tarzan films, and naturalist magazines. The authors provide concrete examples of the construction of Africa's image in the modern world. They reveal how imperial iconographies sought to understand, deny, control, or transform authority, as well as the astonishing complexity and hybridity of visual communication within Africa itself.
About the Author
Paul S. Landau is Associate Professor of History at the University of Maryland at College Park, and author of The Realm of the World: Language, Gender, and Christianity in a Southern African Kingdom (1995). Deborah D. Kaspin is an independent scholar.