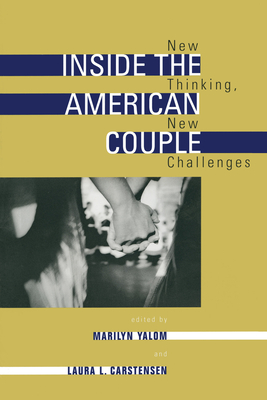 Inside the American Couple
New Thinking, New Challenges
Paperback

* Individual store prices may vary.
Description
One of the most fundamental human urges is to form a pair. Despite many tendencies that threaten traditional marriage and even make committed cohabitation problematic, very few people live through adulthood without at least one lengthy relationship, and up to ninety percent of Americans marry at least once in their lives. This pioneering volume draws attention to issues that question the unspoken traditional practices underlying coupling in America. In it, some of today's most innovative feminist scholars consider the dramatic changes couples have experienced over the past fifty years, such as the proliferation of divorce, the increase in ethnically-mixed relationships, the preponderance of older couples, and the new visibility of same-sex unions.

Approaching their subject from a range of disciplines, the authors explore the couple as an enduring paradigm for human relationships, despite the changes in ideology and practice that couples have experienced over time. The essays delve into such subjects as the historical roots of modern marriage, the recent phenomenon of lesbian and gay commitment ceremonies, the home as a workplace and a place of refuge, and the stresses that turn a happy marriage into an unhappy one. One chapter explodes the myth that feminists are responsible for the high incidence of divorce, while another focuses on the financial worth of the wife after the demise of a long-standing marriage.

Taken together, these essays impart a deep and complex picture of the challenges facing couples in our time. The vital and engaging narratives show that however anxious our society may be in the face of dissolving marriages and dysfunctional families, couples will continue to form the bedrock of American society in the twenty-first century.
University of California Press, 9780520229570, 273pp.
Publication Date: August 7, 2002
About the Author
Marilyn Yalom is Senior Scholar at the Institute for Research on Women and Gender at Stanford University and author of A History of the Wife (2001), A History of the Breast (1997), Blood Sisters: The French Revolution in Women's Memory (1993), and Maternity, Mortality, and the Literature of Madness (1985). Laura Carstensen is Professor of Psychology and the Barbara D. Finberg Director of the Institute for Research on Women and Gender at Stanford University. She has published more than eighty articles and chapters on life-span development, marriage, and emotion.