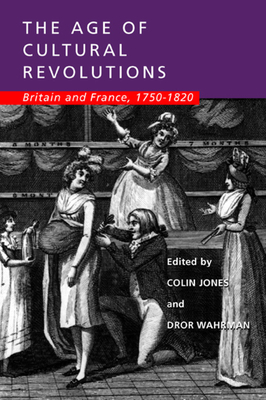 The Age of Cultural Revolutions (Paperback)
Britain and France, 1750-1820
University of California Press, 9780520229679, 306pp.
Publication Date: January 8, 2002
* Individual store prices may vary.
Description
In this vanguard collection, a stellar group of internationally known scholars explores a key period in the making of the modern West. Although the long-standing notion of "dual revolutions," economic in Britain and political in France, has been vigorously challenged in recent years, these authors find that "revolutionary" is an apt description of the important cultural transformations that took place in both France and Britain at the onset of modernity.

The essays, by social and cultural historians as well as by literary scholars, range over many critical themes within this cross-cultural revolution: class, politics, and the nature of social change; gender and identity; race and imperialism; and the reach of the cultural imaginary. Combining primary research with theoretical reflection, each chapter makes a fresh and compelling contribution to the rethinking of these crucial years in world history. The Age of Cultural Revolutions, a superb distillation of the interdisciplinary perspectives of culturally sensitive experts, is revolutionary in itself and will be a valuable model for scholars and students interested in eighteenth- and nineteenth-century Britain and France, European cultural history, and historical method.
About the Author
Colin Jones, Professor of History at Warwick University, is author most recently of France (1999) and coauthor of The Medical World of Early Modern France (with Laurence Brockliss, 1997). Dror Wahrman is Associate Professor of History at Indiana University, Associate Editor of the American Historical Review, and author of Imagining the Middle Class (1995) and the forthcoming Cultural History of the Modern Self.