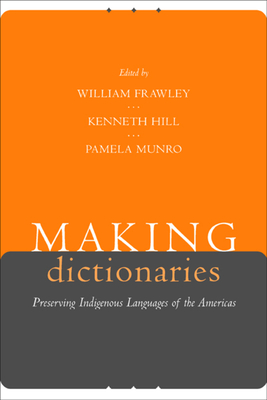 Making Dictionaries (Paperback)
Preserving Indigenous Languages of the Americas
University of California Press, 9780520229969, 455pp.
Publication Date: October 3, 2002
* Individual store prices may vary.
Description
Many indigenous American languages face imminent extinction, and the dictionary, often the only written documentation of these languages, stands as a powerful tool in preserving them. These essays, written by leading scholars in Native American language studies, provide a comprehensive picture of the theory and practice of Native American lexicography. The contributors discuss the technical, social, and personal challenges involved with the complex task of creating a dictionary of a Native American language. The book is also the first of its kind to address both standard and new issues surrounding the challenging task of transforming oral languages in general into written dictionaries. Making Dictionaries will be an invaluable source for those involved with all aspects of documenting and understanding endangered languages and for the increasing number of native communities engaged in language reclamation and preservation efforts.
About the Author
William Frawley is Dean of the Columbian College of Arts and Science at George Washington University, where he is also Professor of Anthropology and Psychology. Prior to that he was Professor and Chair in the Department of Linguistics and Director of Cognitive Science at the University of Delaware, where he was also Faculty Director for Academic Programs and Planning and Director of the University's Office of Undergraduate Studies. His previous books include Vygotsky and Cognitive Science: Language and the Unification of the Social and Computational Mind (1997). Kenneth Hill is Research Associate in the Bureau of Applied Research in Anthropology and in the Department of Linguistics at the University of Arizona. His previous publications include Hopi Dictionary/HoÏikwa Lavytutuveni: A Hopi-English Dictionary of the Third Mesa Dialect (1998), for which he was editor-in-chief. Pamela Munro is Professor of Linguistics at the University of California, Los Angeles. She is coauthor of Chickasaw: An Analytic Dictionary (1994), among other publications.