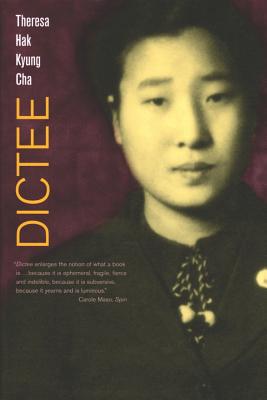 Dictee (Paperback)
University of California Press, 9780520231122, 179pp.
Publication Date: October 1, 2001
* Individual store prices may vary.
Description
Dictee is the best-known work of the versatile and important artist Theresa Hak Kyung Cha (1951-1982). A classic work of autobiography that transcends the self, Dictee is the story of several women: the Korean revolutionary Yu Guan Soon, Joan of Arc, Demeter and Persephone, Cha's mother Hyung Soon Huo (a Korean born in Manchuria to first-generation Korean exiles), and Cha herself. The element that unites these women is suffering and the transcendence of suffering. The book is divided into nine parts structured around the Greek Muses. Cha deploys a variety of texts, documents, images, and forms of address and inquiry to explore issues of dislocation and the fragmentation of memory. The result is a work of power, complexity, and enduring beauty.
About the Author
Theresa Hak Kyung Cha was born in 1951 in Pusan, Korea, and grew up in Korea, Hawaii, and Northern California. She received bachelor's and master's degrees from the University of California, Berkeley, and did postgraduate work in Paris. Her studies in literature, theory, performance art, and filmmaking influenced her varied output as an artist. In 1982, Cha was murdered by a stranger in New York City, just a few days after the original publication of Dictee.
or
Not Currently Available for Direct Purchase