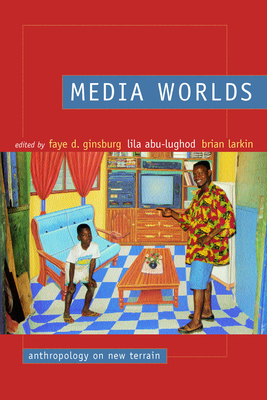 Media Worlds (Paperback)
Anthropology on New Terrain
University of California Press, 9780520232310, 429pp.
Publication Date: October 23, 2002
* Individual store prices may vary.
Description
This groundbreaking volume showcases the exciting work emerging from the ethnography of media, a burgeoning new area in anthropology that expands both social theory and ethnographic fieldwork to examine the way media—film, television, video—are used in societies around the globe, often in places that have been off the map of conventional media studies. The contributors, key figures in this new field, cover topics ranging from indigenous media projects around the world to the unexpected effects of state control of media to the local impact of film and television as they travel transnationally. Their essays, mostly new work produced for this volume, bring provocative new theoretical perspectives grounded in cross-cultural ethnographic realities to the study of media.


About the Author
Faye D. Ginsburg is David B. Kriser Professor of Anthropology and Director of the Center for Media, Culture and History at New York University. She is author of the award-winning Contested Lives: The Abortion Debate in an American Community (California, second edition 1998) and coeditor of Conceiving the New World Order: The Global Politics of Reproduction (California, 1995), among other books. Lila Abu-Lughod is Professor of Anthropology and Women's Studies at Columbia University and author of the award-winning books Writing Women's Worlds: Bedouin Stories (California, 1993) and Veiled Sentiments: Honor and Poetry in a Bedouin Society (California, 1986, 2000), among others. Brian Larkin is Assistant Professor of Anthropology at Barnard College, Columbia University.