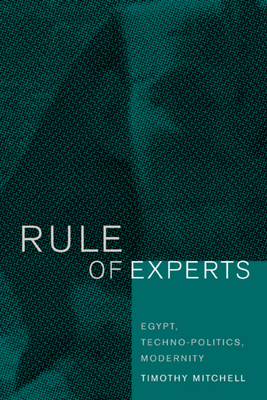 Rule of Experts
Egypt, Techno-Politics, Modernity
Paperback

* Individual store prices may vary.
Description
Can one explain the power of global capitalism without attributing to capital a logic and coherence it does not have? Can one account for the powers of techno-science in terms that do not merely reproduce its own understanding of the world?

Rule of Experts examines these questions through a series of interrelated essays focused on Egypt in the twentieth century. These explore the way malaria, sugar cane, war, and nationalism interacted to produce the techno-politics of the modern Egyptian state; the forms of debt, discipline, and violence that founded the institution of private property; the methods of measurement, circulation, and exchange that produced the novel idea of a national "economy," yet made its accurate representation impossible; the stereotypes and plagiarisms that created the scholarly image of the Egyptian peasant; and the interaction of social logics, horticultural imperatives, powers of desire, and political forces that turned programs of economic reform in unanticipated directions.

Mitchell is a widely known political theorist and one of the most innovative writers on the Middle East. He provides a rich examination of the forms of reason, power, and expertise that characterize contemporary politics. Together, these intellectually provocative essays will challenge a broad spectrum of readers to think harder, more critically, and more politically about history, power, and theory.
Praise For Rule of Experts: Egypt, Techno-Politics, Modernity…
"Timothy Mitchell's new book is brilliant. Written for academics . . . the writing is superb. The prose is luminous and limpid, undergirded by steely passion and resolve."
— EPD: Society and Space

"Rule of Experts is the most exciting and intellectually stimulating book about the Middle East to come my way in a long time. It is a brilliant set of inter-related essays about late-19th- and 20th-century Egypt. . . . This book will surely be required reading for most students and faculty in Middle East studies."
— International Journal of Middle East Studies

"Rules of Experts is the most significant collection of essays by a single author to be produced in contemporary Middle East social science in a generation. There is no one writing today in the field more important than Mitchell."
— Middle East Journal

"The importance of this book goes well beyond the study of Egypt and the Middle East, making it a must read for everyone interested in the formations and effects of modern power."
— Transforming Anthropology
University of California Press, 9780520232624, 429pp.
Publication Date: November 18, 2002
About the Author
Timothy Mitchell is Professor, Department of Middle East and Asian Studies, at Columbia University. His books include Colonising Egypt and Carbon Democracy.