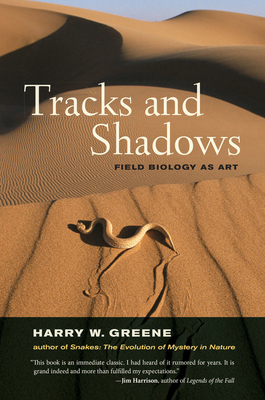 Tracks and Shadows
Field Biology as Art
Hardcover

* Individual store prices may vary.
Other Editions of This Title:
Paperback (8/16/2016)
Description

Intellectually rich, intensely personal, and beautifully written, Tracks and Shadows is both an absorbing autobiography of a celebrated field biologist and a celebration of beauty in nature. Harry W. Greene, award-winning author of Snakes: The Evolution of Mystery in Nature, delves into the poetry of field biology, showing how nature eases our existential quandaries. More than a memoir, the book is about the wonder of snakes, the beauty of studying and understanding natural history, and the importance of sharing the love of nature with humanity.



Greene begins with his youthful curiosity about the natural world and moves to his stints as a mortician's assistant, ambulance driver, and army medic. In detailing his academic career, he describes how his work led him to believe that nature's most profound lessons lurk in hard-won details. He discusses the nuts and bolts of field research and teaching, contrasts the emotional impact of hot dry habitats with hot wet ones, imparts the basics of snake biology, and introduces the great explorers Charles Darwin and Alfred Russel Wallace. He reflects on friendship and happiness, tackles notions like anthropomorphism and wilderness, and argues that organisms remain the core of biology, science plays key roles in conservation, and natural history offers an enlightened form of contentment.
Praise For Tracks and Shadows: Field Biology as Art…

"Achingly beautiful. . . . Greene succeeds in illuminating the world as a place of beauty, harmony, and danger, deeply interconnected and worthy of cherishing and preserving." Starred Review.
— Publishers Weekly

"This scientist has a poet's heart. . . . Tracks and Shadows is a sweet surprise; rarely has science been so tender."
— Booklist
"As beautiful and nuanced as the landscapes it evokes."
— The Scientist
"What a pleasure it is to read these meditations on a 'personal quest for wildness.' . . . What makes this book so rich is [the author's] gift with language along with his thoughtful appreciation of what it means to study nature and to travel, if ever so briefly, on a living planet."
— Laurence A. Marschall
"As packed with people and drama as a novel."
— Stuart Pimm
"Greene engages readers from beginning to end. . . . The book leaves us with questions to ponder but also with inspiration to indulge our curiosity for nature."
— Frances Bonier
"Fiercely honest and fascinating."
— Jules Pretty
"Greene has created a rare bridge between [artists and scientists] and told us what it feels like to be a deeply sensitive research scientist, working in a world where the ecosystems are falling to bits around us."
— Rick Shine
"[Reminds] us that appreciation of the natural world is important to us as individuals and collectively."
— Hollis Walker
"No one reading this paean for a respect of the outdoors and its inhabitants could fail to be enthused."
— International Journal of Environmental Studies
"Harry Greene's exuberance for life infuses this scien- tific autobiography, which overflows with his passion for herpetology, the wild places that his beloved reptiles inhabit, and very human friendships."
— Conservation Biology
University of California Press, 9780520232754, 296pp.
Publication Date: October 28, 2013
About the Author

Harry W. Greene is the Stephen Weiss Presidential Fellow and Professor of Ecology and Evolutionary Biology at Cornell University and a recipient of the E.O. Wilson Award from the American Society of Naturalists. His book Snakes: The Evolution of Mystery in Nature (UC Press), won a PEN Literary Award and was a New York Times Notable Book.