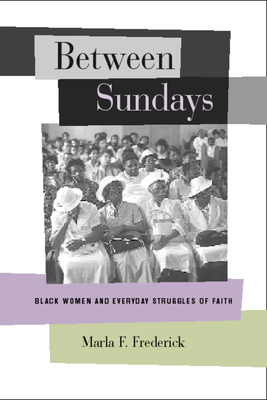 Between Sundays
Black Women and Everyday Struggles of Faith
Paperback

* Individual store prices may vary.
Description
To be a black woman of faith in the American South is to understand and experience spirituality in a particular way. How this understanding expresses itself in everyday practices of faith is the subject of Between Sundays, an innovative work that takes readers beyond common misconceptions and narrow assumptions about black religion and into the actual complexities of African American women's spiritual lives.

Gracefully combining narrative, interviews, and analysis, this book explores the personal, political, and spiritual commitments of a group of Baptist women whose experiences have been informed by the realities of life in a rural, southern community. In these lives, "spirituality" emerges as a space for creative agency, of vital importance to the ways in which these women interpret, inform, and reshape their social conditions--conditions often characterized by limited access to job opportunities, health care, and equitable schooling. In the words of these women, and in Marla F. Frederick's deft analysis, we see how spirituality—expressed as gratitude, empathy, or righteous discontent—operates as a transformative power in women's interactions with others, and in their own more intimate renegotiations of self.
Praise For Between Sundays: Black Women and Everyday Struggles of Faith…
"Engagingly written with rich and sensitive portrayals."
— African American Review
"This wonderfully written book gives voice to women whose lives and actions may have gone unnoticed outside of their small rural community. Between Sundays is excellent for anyone interested in race and ethnic relations, black feminist theory, women and gender studies, religion and religiosity, class, rural studies, and activism, and how they intersect. It is rare to find a work as finely written as this and that puts a human face on so many sociological concepts and categories."
— Contemporary Sociology
"An outstanding contribution to the literature on black religion. With a wonderful personal style, Frederick (Harvard) is able to weave her own story and her interactions with the women's lives into a finely honed narrative that illuminates both the personal and the social."
— CHOICE
"Marla Frederick has provided her readers with an excellent ethnographic study of black church women in the rural and economically depressed area of Halifax County, North Carolina. . . . It is written in a personable style, well documented and a good length for use with undergraduate students."
— Sociology of Religion
". . . Frederick's book makes an important contribution to our understanding of how culturally mediated interpretive processes engender efficacy."
— Social Forces
"Engagingly structured in day-of-the-week chapters, Frederick's book closely examines the many ways Black women's spirituality affects their actions in the time not spent at church. . . . [The book] provide[s a] welcome addition to the social scientific literature on women and religion."
— Gender and Society
University of California Press, 9780520233942, 275pp.
Publication Date: November 20, 2003
About the Author
Marla F. Frederick is Assistant Professor of Religion and African American Studies at Harvard University.