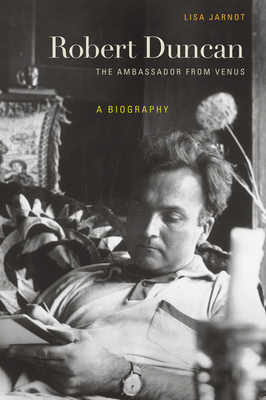 Robert Duncan, The Ambassador from Venus (Hardcover)
A Biography
University of California Press, 9780520234161, 560pp.
Publication Date: August 27, 2012
* Individual store prices may vary.
Description
This definitive biography gives a brilliant account of the life and art of Robert Duncan (1919–1988), one of America's great postwar poets. Lisa Jarnot takes us from Duncan's birth in Oakland, California, through his childhood in an eccentrically Theosophist household, to his life in San Francisco as an openly gay man who became an inspirational figure for the many poets and painters who gathered around him. Weaving together quotations from Duncan's notebooks and interviews with those who knew him, Jarnot vividly describes his life on the West Coast and in New York City and his encounters with luminaries such as Henry Miller, Anaïs Nin, Tennessee Williams, James Baldwin, Paul Goodman, Michael McClure, H.D., William Carlos Williams, Denise Levertov, Robert Creeley, and Charles Olson.
About the Author
Lisa Jarnot is a poet and independent scholar. She has taught at Brooklyn College and the Naropa Institute and is the author of four books of poetry, including Ring of Fire and Night Scenes.
Praise For Robert Duncan, The Ambassador from Venus: A Biography…
"A comprehensive, well-researched, and beautifully written biography. . . . Jarnot brings Duncan to life as a gay man and a brilliant poet engaged with the cultural and political issues of his time."
— Publishers Weekly
"An edifying study of a poet who did much to inspire the next generation of poets, and it is an entertaining life story. This book should be looked to as a template for other biographies of twentieth-century poets."
— Daniel Coffey
"A chronicle that should be utterly absorbing for anyone interested in twentieth-century American poetry."
— Ray Olson
"Jarnot's biography offers an eloquent testament to an American poet trying to be responsible to the human spirit. . . . It will compel us all to reread Duncan's poetry—breathtaking as it is."
— Seth Lerer
"For many younger readers, the members of the post-World War II 'San Francisco Renaissance,' like their cohorts among the Black Mountain poets, are little more than names. . . . Posterity winnows ruthlessly, and, rightly or not, the American poets of the 1950s, '60s and '70s who seem to be passing into the canon are largely East Coast folk. . . . This makes Lisa Jarnot's biography of Duncan all the more valuable."
— Michael Dirda
"Jarnot has done her homework, and she gives readers an exhaustive, meticulously detailed account of Duncan's life. . . . Highly recommended."
— Choice
"In organizing a mass of previously unavailable archive material, Jarnot's study will serve as an indispensable reference text—if not the first port of call—for anyone hoping to make headway through the metaphysical tangle of Duncan's oeuvre. . . . Readers of Jarnot's biography will find Duncan's life realized, at last, in all its fictive certainty."
— Stephen Ross
"Jarnot is a sensitive reader of literary history and an admiring but not uncritical biographer. She is also not above serving up the scuttlebutt that we've come, as readers, to expect as our literary-biographical due."
— Robert Baird
"Lisa Jarnot's biography of Duncan should only stoke further interest in his work. She avoids the usual two pitfalls—worship and apostasy—by cleaving to a style so clean and free of editorializing or psychologizing that it reads like reportage. . . . The result is a book of just the facts: what, where, when and who. And yet Jarnot, a poet herself, is sensitive to the symbols and cycles that defined Duncan's imaginative life."
— Ange Mlinko
or
Not Currently Available for Direct Purchase