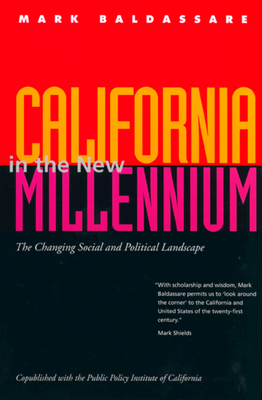 California in the New Millennium
The Changing Social and Political Landscape
Paperback

* Individual store prices may vary.
Description
What will California look like by the middle of the twenty-first century? Change is occurring in the state at a breathtaking pace. The state will face many extraordinary challenges. Yet today most Californians believe that their elected officials are unable to develop effective public policies. Mark Baldassare examines the powerful undercurrents--economic, demographic, and political--shaping California at this critical juncture in its history. He focuses on three trends that are profoundly affecting the social and political landscape of the state: political distrust, racial and ethnic change, and regional diversity. Baldassare discusses the complexities of this situation and offers a series of substantive recommendations for how California can come to terms with the unprecedented challenges it faces.
University of California Press, 9780520234215, 283pp.
Publication Date: May 15, 2002
About the Author
Mark Baldassare is a Senior Fellow at the Public Policy Institute of California in San Francisco where he holds the Arjay and Frances Miller Chair in Public Policy. He is author of When Government Fails: The Orange County Bankruptcy (California, 1998) and Trouble in Paradise: The Suburban Transformation in America (1986), among other books.