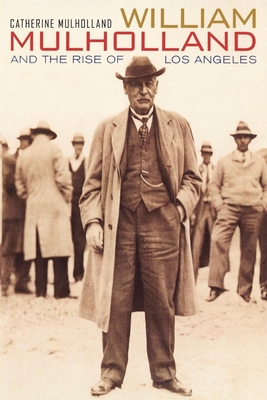 William Mulholland and the Rise of Los Angeles
Paperback

* Individual store prices may vary.
Description
William Mulholland presided over the creation of a water system that forever changed the course of southern California's history. Mulholland, a self-taught engineer, was the chief architect of the Owens Valley Aqueduct—a project ranking in magnitude and daring with the Panama Canal—that brought water to semi-arid Los Angeles from the lush Owens Valley. The story of Los Angeles's quest for water is both famous and notorious: it has been the subject of the classic yet historically distorted movie Chinatown, as well as many other accounts. This first full-length biography of Mulholland challenges many of the prevailing versions of his life story and sheds new light on the history of Los Angeles and its relationship with its most prized resource: water.

Catherine Mulholland, the engineer's granddaughter, provides insights into this story that family familiarity affords, and adds to our historical understanding with extensive primary research in sources such as Mulholland's recently uncovered office files, newspapers, and Department of Water and Power archives. She scrutinizes Mulholland's life—from his childhood in Ireland to his triumphant completion of the Owens Valley Aqueduct to the tragedy that ended his career. This vivid portrait of a rich chapter in the history of Los Angeles is enhanced with a generous selection of previously unpublished photographs.

Los Angeles Times Best Nonfiction Book of 2000
University of California Press, 9780520234666, 436pp.
Publication Date: May 6, 2002
About the Author
Catherine Mulholland is author of Calabasas Girls: An Intimate History (1976) and The Owensmouth Baby: The Making of a San Fernando Town (1987).