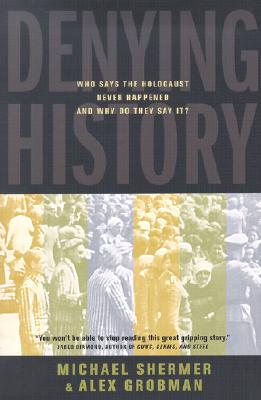 Denying History (Paperback)
Who Says the Holocaust Never Happened and Why Do They Say It?
University of California Press, 9780520234697, 312pp.
Publication Date: May 1, 2002
* Individual store prices may vary.
Description
Denying History takes a bold and in-depth look at those who say the Holocaust never happened and explores the motivations behind such claims. While most commentators have dismissed the Holocaust deniers as antisemitic neo-Nazi thugs who do not deserve a response, historians Michael Shermer and Alex Grobman have immersed themselves in the minds and culture of these Holocaust "revisionists." They have conducted personal interviews with the deniers, read their literature, monitored their Web sites, attended their conferences, engaged them in debate, and even traveled around Europe to conduct research at the Nazi extermination camps. Uncovering a complex social movement, the authors go much deeper than ever before in not only trying to understand the motives of the Holocaust deniers, but also refuting their points one by one. In the process, they show how we can be certain that the Holocaust happened and, for that matter, how we can confirm any historical event.
About the Author
Michael Shermer is the founder and publisher of Skeptic magazine, Director of the Skeptics Society, Adjunct Professor of the History of Science at Occidental College, and host of the Skeptics Lecture Series at Caltech. He is also the host of a national TV show called Exploring the Unknown (Fox Network) and the author of Why People Believe Weird Things (1997), and How We Believe: The Search for God in an Age of Science (1999). Alex Grobman is President of the Institute for Contemporary Jewish Life; editor of Genocide: Critical Issues of the Holocaoust(1983), as well as In Defense of the Survivors: The Letters and Documents of Oscar A. Mintzer, AJDC Legal Advisor, Germany, 1945-46 (1999); and author of Rekindling the Flame: American Jewish Chaplains and the Survivors of European Jewry, 1944-1948 (1992) and Out of the Depths of Despair: Rabbi Nathan Baruch and the Vaad Hatzala in Post-War Europe (forthcoming, 2002)
or
Not Currently Available for Direct Purchase