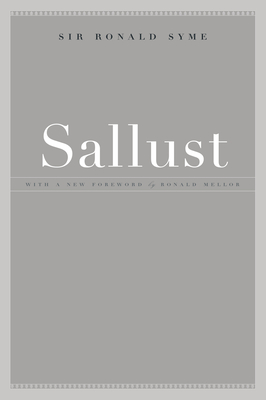 Sallust (Sather Classical Lectures #33) (Paperback)
University of California Press, 9780520234796, 433pp.
Publication Date: June 5, 2002
* Individual store prices may vary.
Description
With this classic book, Sir Ronald Syme became the first historian of the twentieth century to place Sallust—whom Tacitus called the most brilliant Roman historian—in his social, political, and literary context. Scholars had considered Sallust to be a mere political hack or pamphleteer, but Syme's text makes important connections between the politics of the Republic and the literary achievement of the author to show Sallust as a historian unbiased by partisanship. In a new foreword, Ronald Mellor delivers one of the most thorough biographical essays of Sir Ronald Syme in English. He both places the book in the context of Syme's other works and details the progression of Sallustian studies since and as a result of Syme's work.


About the Author
One of the most distinguished Roman historians, Sir Ronald Syme (1903-1989) was Camden Professor of Ancient History at Oxford University. His books include Tacitus (1958) and The Roman Revolution (1939). In addition to numerous awards and honors, he collected honorary degrees in eleven countries on five continents. Ronald Mellor is Professor of History at the University of California, Los Angeles. He is the author of several books on Roman history, including The Roman Historians (1999), Tacitus: The Classical Heritage (1995), Tacitus (1993), and From Augustus to Nero: The First Dynasty of Imperial Rome (ed. 1990)