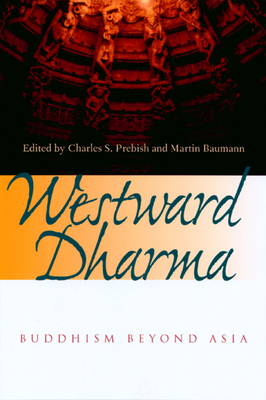 Westward Dharma (Paperback)
Buddhism beyond Asia
University of California Press, 9780520234901, 436pp.
Publication Date: December 4, 2002
* Individual store prices may vary.
Description
The first authoritative volume on the totality of Buddhism in the West, Westward Dharma establishes a comparative and theoretical perspective for considering the amazing variety of Buddhist traditions, schools, centers, and teachers that have developed outside of Asia. Leading scholars from North America, Europe, South Africa, and Australia explore the plurality and heterogeneity of traditions and practices that are characteristic of Buddhism in the West.

This recent, dramatic growth in Western Buddhism is accompanied by an expansion of topics and issues of Buddhist concern. The contributors to this volume treat such topics as the broadening spirit of egalitarianism; the increasing emphasis on the psychological, as opposed to the purely religious, nature of practice; scandals within Buddhist movements; the erosion of the distinction between professional and lay Buddhists; Buddhist settlement in Israel; the history of Buddhism in internment camps; repackaging Zen for the West; and women's dharma in the West. The interconnections of historical and theoretical approaches in the volume make it a rich, multi-layered resource.
About the Author
Charles S. Prebish is Professor of Religious Studies at Pennsylvania State University and author and editor of numerous works, including Luminous Passage: The Practice and Study of Buddhism in America (California, 1999), A Survey of Vinaya Literature (1994), and American Buddhism (1979). He is coeditor of The Faces of Buddhism in America (California, 1998) and the electronic Journal of Buddhist Ethics. Martin Baumann is Professor of the History of Religions at the University of Lucerne, Switzerland, and research fellow in the Department of Religious Studies at Hannover University, Germany. He is the author of Diaspora: Hindus and Trinidad (2002), Migration, Religion, Integration (2000), and Deutsche Buddhisten: Geschichte and Gemeinschaften (1993). He is also coeditor of Religions fo the World: A Comprehensive Encyclopedia of Beliefs and Practices (2002). Prebish and Buamann are coeditors of the electronic Journal of Global Buddhism (http://www.globalbuddhism.org).