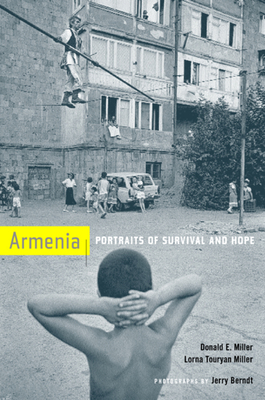 Armenia
Portraits of Survival and Hope
Hardcover

* Individual store prices may vary.
Description
A remarkable view of how geopolitics affects ordinary people, this book documents, in words and pictures, the lives of Armenians in the last two decades. Based on intimate interviews with three hundred Armenians and featuring Jerry Berndt's superb photographs, it brings together firsthand testimony about the social, economic, and spiritual circumstances of Armenians during the 1980s and 1990s, when the country faced an earthquake, pogroms, and war. At times shocking and deeply emotional, Armenia: Portraits of Survival and Hope is a story of extreme suffering and hardship, a searching look at the fight for independence, and an exceptionally complex portrait of the human spirit.

A companion to the Millers' highly acclaimed work Survivors: An Oral History of the Armenian Genocide, which documented the genocide of 1915, this book focuses on four groups of people: survivors of the earthquakes that devastated northwestern Armenia in 1988; refugees from Azerbaijan who fled Baku and Sumgait because of pogroms against them; women, children, and soldiers who were affected by the war in Nagorno-Karabakh; and ordinary citizens who survived several winters without heat because of the blockade against Armenia by Turkey and Azerbaijan. The Millers' narrative situates these accounts contextually and thematically, but the voices of individuals remain paramount. The Millers also describe their personal experiences in repeated research trips, inviting us to look beyond the headlines and think beyond the circumstances of our own lives as they bring contemporary Armenia to life.
University of California Press, 9780520234925, 248pp.
Publication Date: September 15, 2003
About the Author
Donald E. Miller is Professor of Religion and Director of the Center for Religion and Civic Culture at the University of Southern California and author of Reinventing American Protestantism: Christianity in the New Millennium (California, 1997) and The Case for Liberal Christianity (1981), among other books. Lorna Touryan Miller is Director of the Office for Creative Connections at All Saints Church in Pasadena, California. The Millers coauthored Survivors: An Oral History of the Armenian Genocide (California, 1993). Jerry Berndt has taught photography at the Art Institute of Boston and the University of Massachusetts. He recieved a National Endowment for the Arts fellowship in 1987, and work is included in the permanent collections of the Museum of Modern Art and the International Center of Photography, New York; the Museum of Fine Arts, Boston; and the Bibliothèque Nationale, Paris.