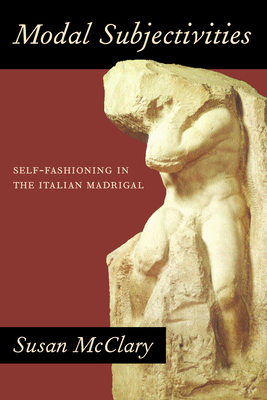 Modal Subjectivities
Self-Fashioning in the Italian Madrigal
Hardcover

* Individual store prices may vary.
Other Editions of This Title:
Paperback (9/17/2019)
Description
In this boldly innovative book, renowned musicologist Susan McClary presents an illuminating cultural interpretation of the Italian madrigal, one of the most influential repertories of the Renaissance. A genre that sought to produce simulations in sound of complex interiorities, the madrigal introduced into music a vast range of new signifying practices: musical representations of emotions, desire, gender stereotypes, reason, madness, tensions between mind and body, and much more. In doing so, it not only greatly expanded the expressive agendas of European music but also recorded certain assumptions of the time concerning selfhood, making it an invaluable resource for understanding the history of Western subjectivity.

Modal Subjectivities covers the span of the sixteenth-century polyphonic madrigal, from its early manifestations in Philippe Verdelot's settings of Machiavelli in the 1520s through the tortured chromatic experiments of Carlo Gesualdo. Although McClary takes the lyrics into account in shaping her readings, she focuses particularly on the details of the music itself—the principal site of the genre's self-fashionings. In order to work effectively with musical meanings in this pretonal repertory, she also develops an analytical method that allows her to unravel the sophisticated allegorical structures characteristic of the madrigal. This pathbreaking book demonstrates how we might glean insights into a culture on the basis of its nonverbal artistic enterprises.
Praise For Modal Subjectivities: Self-Fashioning in the Italian Madrigal…
"...the book's engaging style, bold premise, and persuasive argument will reward and gratify the reader who possesses a modicum of music literacy and a general interest in Renaissance poetics, regardless of discipline."
 
— Renaissance Quarterly
University of California Press, 9780520234932, 386pp.
Publication Date: December 13, 2004
About the Author
Susan McClary is Professor of Music at Case Western University. She is the author of many books, including Conventional Wisdom: The Content of Musical Form and Desire and Pleasure in Seventeenth-Century Music, both published by University of California Press. This book, first published in 2004, won the Otto Kinkeldey Award from the American Musicological Society.