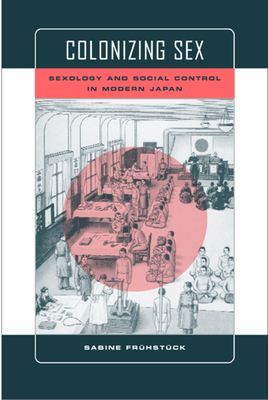 Colonizing Sex
Sexology and Social Control in Modern Japan (Colonialisms #4)
Paperback

* Individual store prices may vary.
Description
A sweeping study of sex, power, and knowledge in modern Japan, this ambitious work provides the first full-scale, detailed history of the formation and application of a science of sex from Meiji through mid-twentieth century Japan. Tracing the different uses made of sexual knowledge, the book brings to light the complex and subtle interplay between sexuality, scientific expertise, social control, and empire building.

Drawing on a wide variety of sources, Frühstück analyzes the conflicts and negotiations that aimed at producing a normative sexuality. She shows how the "colonization" of sex was enacted through debates over several issues: the necessity of sex education; the prevention of venereal diseases; the problem of masturbation and its alleged consequences; the legalization of birth control; the fight against prostitution; the emergence of eugenics; and, eventually, the implementation of "racial hygiene" policies. In Colonizing Sex we see how these struggles were driven by rhetoric consisting of cries for defense, liberation, and truth—emphasizing in every historical moment how the sexual body has been, and is, part of much broader currents in political, cultural, and social life.
University of California Press, 9780520235489, 277pp.
Publication Date: October 7, 2003
About the Author
Sabine Frühstück is Professor of Modern Japanese Cultural Studies at the University of California, Santa Barbara. She is coeditor of The Culture of Japan as Seen through Its Leisure (1998) and Neue Geschichten der Sexualität: Beispiele aus Ostasien und Zentraleuropa 1700-2000 (1999). She is currently completing a book on military-societal relations in modern Japan, entitled Avant-garde: The Army of the Future.