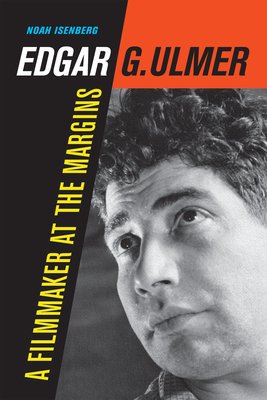 Edgar G. Ulmer
A Filmmaker at the Margins (Weimar and Now: German Cultural Criticism #48)
Hardcover

* Individual store prices may vary.
Description

Edgar G. Ulmer is perhaps best known today for Detour, considered by many to be the epitome of a certain noir style that transcends its B-list origins. But in his lifetime he never achieved the celebrity of his fellow Austrian and German émigré directors—Billy Wilder, Otto Preminger, Fred Zinnemann, and Robert Siodmak. Despite early work with Max Reinhardt and F. W. Murnau, his auspicious debut with Siodmak on their celebrated Weimar classic People on Sunday, and the success of films like Detour and Ruthless, Ulmer spent most of his career as an itinerant filmmaker earning modest paychecks for films that have either been overlooked or forgotten. In this fascinating and well-researched account of a career spent on the margins of Hollywood, Noah Isenberg provides the little-known details of Ulmer's personal life and a thorough analysis of his wide-ranging, eclectic films—features aimed at minority audiences, horror and sci-fi flicks, genre pictures made in the U.S. and abroad. Isenberg shows that Ulmer's unconventional path was in many ways more typical than that of his more famous colleagues. As he follows the twists and turns of Ulmer's fortunes, Isenberg also conveys a new understanding of low-budget filmmaking in the studio era and beyond.

 
Praise For Edgar G. Ulmer: A Filmmaker at the Margins (Weimar and Now: German Cultural Criticism #48)…
"A page turner of a biography."
— Andrew O'Hehir
"The story of his [Edgar G. Ulmer's] life is told with remarkable research and insight."
— Richard Brody
"The season's must read [for film buffs] . . . Noah Isenberg's long-awaited biography 'Edgar G. Ulmer: A Filmmaker at the Margins.' Ulmer—whose CV includes "People on Sunday," "The Black Cat," "Detour," four Yiddish talkies, a half dozen bargain basement classics and as many indescribable oddities—had a life that was every bit as interesting as his film. The writing is scholarly but, given the material, charged with irony and full of pep."
— J. Hoberman
"[A] cogent treatment of a singularly unlikely career. Isenberg's writing...allows the monumental eccentricities of Ulmer's underground journey to shine through."
— Howard Hampton
"Long considered as something of a guilty pleasure among filmmakers, critics, and fans, director Edgar G. Ulmer finally gets the attention and scholarship he deserves in Noah Isenberg's new book."
— Matthew Steigbigel
"A rare coupling of intellectual treatise and entertaining biography that beckons to both the film scholar and the public."
— Miguel Rodriguez
"With sober intrepidness, Isenberg tethers down to earth some of the more wild claims made by and about his subject. In recounting the filmmaker¹s amazing career, he moves easily between describing the drama going on behind the scenes and analyzing the provocative work that Ulmer put on screen. . . . This fascinating biography gives us the chance to weigh the many frustrations in Ulmer¹s career against the joy he found in the act of creation."
— Betsy Sherman
"Operating mostly outside of the Hollywood system, Edgar G. Ulmer (the original King of the B¹s) is a fascinating character whose rather notorious mysterious life is somewhere between fact and fiction. All of this is explored and solved . . . in scholar Noah Isenberg¹s brilliant new critical biography Edgar G. Ulmer: A Filmmaker at the Margins."
— Caryn Coleman
"A most welcome book, which can lay claim to being a definitive study of Edgar G. Ulmer. . . . Isenberg has given us more than an academic study of the filmmaker's eclectic career. He manages to paint a rounded, sympathetic but honest picture of the man whose endless dreams were so often dashed. . . . Edgar G. Ulmer: A Filmmaker at the Margins is scholarly but never dry. It is a valuable reference and a good read."
— Leonard Maltin
"As Isenberg reveals in this utterly necessary book, Ulmer was a nonpareil slinger of [exaggerated stories] even for a business that thrives on everything inauthentic except avarice. . . . In so many ways he was the Micawber of Poverty Row, and the something that turned up was not the big budget spectaculars with A-list casts that he fervently hoped for, but the wormy little movies about failure that he actually made. They were more than good enough to justify a life, and this very good book."
— Scott Eyman
"The first English-language biography of the studio-era director oft crowned 'King of Poverty Row,' Edgar G. Ulmer: A Filmmaker at the Margins explores an itinerant, ramshackle, and occasionally brilliant career that encompassed proto-proto–New Wave experiments, Yiddish utopia, influential B-noirs, fly-by-night exploitation, and Cold War sci-fi super-cheese. . .Isenberg creates a picture of a filmmaker as ragtag and resourceful as the films he directed. . . . [He] effectively traces Ulmer's artistic identity through the thematic (existential dread and rootlessness) and aesthetic (German Expressionism, classical music and opera) continuity of a body of work unified by little else."
— Michael Joshua Rowin
"Isenberg makes a scrupulously honest case for the director and 'l'aesthetique du cheap,' as a French critic called Ulmer's kind of style, avoiding injudicious praise and recognizing his weaknesses as well as his strengths. Then again, with Ulmer the weaknesses often are the strengths, and vice versa. That's what makes him so fascinating and Isenberg's energetic study so engrossing."
— David Sterritt
"While other authors are drawn to celebrities of greater stature whose lives are well documented, Isenberg preferred the challenge of unraveling the mystery of this European transplant who clearly had talent but never found success in Hollywood. . . . Ulmer may not have had the resources given to his fellow émigré directors but that didn't stop him from endowing his films with a unique personal vision that may finally be finding the appreciation it deserves."
— Beth Accomando
"The Ulmer that emerges from the detail-packed, though rarely dry, pages of Isenberg¹s biography is tragicomic. During his lifetime, the émigré director was rightly renowned for his ability to spin straw into gold (or silver, at any rate), yet this meant that he became in many ways a victim of his own success."
— Eric J. Iannelli
"Now we have what is destined to become the definitive English-language critical biography from Noah Isenberg. . . The movies speak for themselves, but they have gained an eloquent companion."
— Nick Pinkerton
"This definitive study of fringe director Edgar G. Ulmer is also an anatomy of the B-movie industry. . . . The stories of Ulmer's offscreen seat-of-the-pants artistry make for a delightful and inspiring read. Recommended."
— M. Yacowar
"Remarkable for its revealing of the hidden career of a minor genius is Noah Isenberg's Edgar G. Ulmer: A Filmmaker at the Margins."  Best Film Books of 2014
— Thomas Gladysz
"An authoritative new biography."
— Kenneth Turan
University of California Press, 9780520235779, 384pp.
Publication Date: January 9, 2014
About the Author
Noah Isenberg is Director of Screen Studies and Professor of Culture and Media at the New School, author of Detour, and editor of Weimar Cinema: An Essential Guide to Classic Films of the Era.