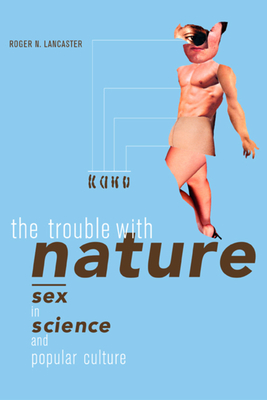 The Trouble with Nature (Paperback)
Sex in Science and Popular Culture
University of California Press, 9780520236202, 455pp.
Publication Date: May 1, 2003
* Individual store prices may vary.
Description
Roger N. Lancaster provides the definitive rebuttal of evolutionary just-so stories about men, women, and the nature of desire in this spirited exposé of the heterosexual fables that pervade popular culture, from prime-time sitcoms to scientific theories about the so-called gay gene. Lancaster links the recent resurgence of biological explanations for gender norms, sexual desires, and human nature in general with the current pitched battles over sexual politics. Ideas about a "hardwired" and immutable human nature are circulating at a pivotal moment in human history, he argues, one in which dramatic changes in gender roles and an unprecedented normalization of lesbian and gay relationships are challenging received notions and commonly held convictions on every front.

The Trouble with Nature takes on major media sources—the New York Times, Newsweek—and widely ballyhooed scientific studies and ideas to show how journalists, scientists, and others invoke the rhetoric of science to support political positions in the absence of any real evidence. Lancaster also provides a novel and dramatic analysis of the social, historical, and political backdrop for changing discourses on "nature," including an incisive critique of the failures of queer theory to understand the social conflicts of the moment. By showing how reductivist explanations for sexual orientation lean on essentialist ideas about gender, Lancaster invites us to think more deeply and creatively about human acts and social relations.
About the Author
Roger N. Lancaster teaches anthropology and cultural studies at George Mason University, where he directs the Cultural Studies Ph.D. program. He edited (with Micaela di Leonardo) The Gender/Sexuality Reader (1997) and is the author of Life Is Hard: Machismo, Danger, and the Intimacy of Power in Nicaragua (California, 1993), which won the C. Wright Mills Award and the Ruth Benedict Prize.