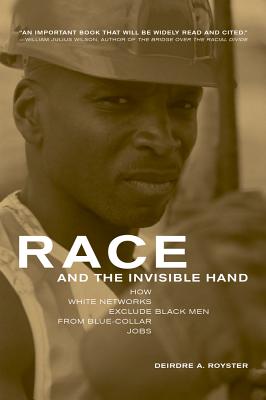 Race and the Invisible Hand
How White Networks Exclude Black Men from Blue-Collar Jobs
Paperback

* Individual store prices may vary.
Description
From the time of Booker T. Washington to today, and William Julius Wilson, the advice dispensed to young black men has invariably been, "Get a trade." Deirdre Royster has put this folk wisdom to an empirical test—and, in Race and the Invisible Hand, exposes the subtleties and discrepancies of a workplace that favors the white job-seeker over the black. At the heart of this study is the question: Is there something about young black men that makes them less desirable as workers than their white peers? And if not, then why do black men trail white men in earnings and employment rates? Royster seeks an answer in the experiences of 25 black and 25 white men who graduated from the same vocational school and sought jobs in the same blue-collar labor market in the early 1990s. After seriously examining the educational performances, work ethics, and values of the black men for unique deficiencies, her study reveals the greatest difference between young black and white men—access to the kinds of contacts that really help in the job search and entry process.
University of California Press, 9780520239517, 242pp.
Publication Date: October 2, 2003
About the Author
Deirdre Royster joined the College of William and Mary faculty in 2002 as an associate professor in the Department of Sociology and currently serves as chair of the department. Royster received her doctorate in sociology from the Johns Hopkins University in 1996 and worked from 1996-2000 as an assistant professor at the University of Massachusetts, Amherst Campus. Her research has been supported by the American Sociological Association, the Social Science Research Council, the Spencer Foundation, and the National Academy of Education and she is beginning a new project on the significance of the Crosson v. Richmond case for African American construction firms and workers.