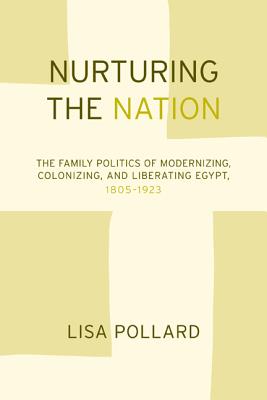 Nurturing the Nation
The Family Politics of Modernizing, Colonizing, and Liberating Egypt, 1805-1923
Paperback

* Individual store prices may vary.
Description
Focusing on gender and the family, this erudite and innovative history reconsiders the origins of Egyptian nationalism and the revolution of 1919 by linking social changes in class and household structure to the politics of engagement with British colonial rule. Lisa Pollard deftly argues that the Egyptian state's modernizing projects in the nineteenth century reinforced ideals of monogamy and bourgeois domesticity among Egypt's elite classes and connected those ideals with political and economic success. At the same time, the British used domestic and personal practices such as polygamy, the harem, and the veiling of women to claim that the ruling classes had become corrupt and therefore to legitimize an open-ended tenure for themselves in Egypt. To rid themselves of British rule, bourgeois Egyptian nationalists constructed a familial-political culture that trained new generations of nationalists and used them to demonstrate to the British that it was time for the occupation to end. That culture was put to use in the 1919 Egyptian revolution, in which the reformed, bourgeois family was exhibited as the standard for "modern" Egypt.
Praise For Nurturing the Nation: The Family Politics of Modernizing, Colonizing, and Liberating Egypt, 1805-1923…
"[An] ambitious and original work."
— Intl Journal Of Middle East Stds (Ijmes)
University of California Press, 9780520240230, 302pp.
Publication Date: January 31, 2005
About the Author
Lisa Pollard is Associate Professor of History at the University of North Carolina–Wilmington. She is the coeditor of Families of a New World: Gender, Politics and State-Building in Global Perspective (2003).