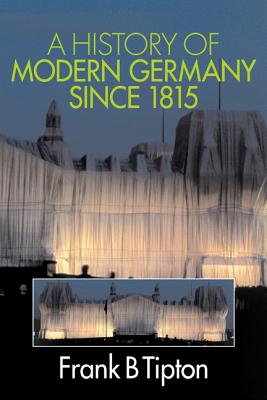 A History of Modern Germany since 1815
Paperback

* Individual store prices may vary.
Other Editions of This Title:
Paperback (1/1/2001)
Description
Germany has fascinated its own people as well as onlookers in the twentieth century because, unlike the history of other European states, its very being has been posed as a question. Why was there no unified German state until late in the nineteenth century? How did Germany become an industrial power? What responsibility does Germany bear for the two world wars? This accessible but authoritative study attempts to answer these and other fundamental questions by looking at the economic, social, political and cultural forces that have created modern Germany.

The 1848 revolutions ushered in an age of Realism that saw rapid economic development and the creation of the Bismarckian empire. However, by the early twentieth century Germany's economic expansion and position as a world power began to fracture and growing internal, economic, social, and political contradictions led it, with disastrous results, into the First World War and the subsequent Weimar Republic. Hitler and the Nazi movement proposed a "revolution" and the creation of a "German style" and the Second World War/Holocaust is, arguably, the defining event of the twentieth century. The Americanization of the German economy and society, the "economic miracle" and euphoria of reunification have in recent years rapidly given way to disillusionment as the major political parties have failed to master outstanding social and environmental problems. The "German question"—Germany's place within the European Union—continues to be unanswered even within an EU where it is the dominant economic power.
University of California Press, 9780520240490, 751pp.
Publication Date: August 4, 2003
About the Author
Frank B. Tipton is Professor in the School of Economics and Political Science, University of Sydney.