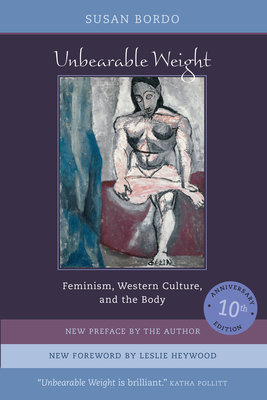 Unbearable Weight
Feminism, Western Culture, and the Body
Paperback

* Individual store prices may vary.
Description
"Unbearable Weight is brilliant. From an immensely knowledgeable feminist perspective, in engaging, jargonless (!) prose, Bordo analyzes a whole range of issues connected to the body—weight and weight loss, exercise, media images, movies, advertising, anorexia and bulimia, and much more—in a way that makes sense of our current social landscape—finally! This is a great book for anyone who wonders why women's magazines are always describing delicious food as 'sinful' and why there is a cake called Death by Chocolate. Loved it!"—Katha Pollitt, Nation columnist and author of Subject to Debate: Sense and Dissents on Women, Politics, and Culture (2001)
Praise For Unbearable Weight: Feminism, Western Culture, and the Body…
"This excellent study links the fear of women's fat with a fear of women's power and shows that as opportunities for women increase, their bodies dwindle."
— New York Times
"Original, stimulating, and witty."
— San Francisco Chronicle
University of California Press, 9780520240544, 400pp.
Publication Date: January 1, 2004
About the Author
Susan Bordo is Singletary Chair in the Humanities and Professor of English and Women's Studies at the University of Kentucky. She is the author of The Male Body: A New Look at Men in Public and in Private, and Twilight Zones: The Hidden Life of Cultural Images from Plato to O.J. (UC Press, 1997).