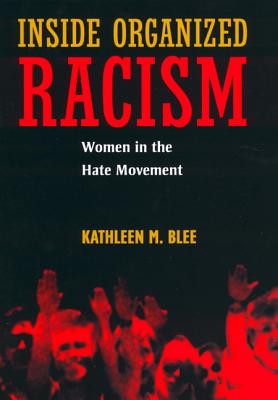 Inside Organized Racism (Paperback)
Women in the Hate Movement
University of California Press, 9780520240551, 272pp.
Publication Date: July 9, 2003
* Individual store prices may vary.
Description
Following up her highly praised study of the women in the 1920s Ku Klux Klan, Blee discovers that many of today's racist women combine dangerous racist and anti-Semitic agendas with otherwise mainstream lives. The only national sample of a broad spectrum of racist activists and the only major work on women racists, this important book also sheds light on how gender relationships shape participation in the movement as a whole.
About the Author
Kathleen M. Blee is Professor of Sociology at the University of Pittsburgh. She is the author of Women of the Klan: Racism and Gender in the 1920s (California, 1991), editor of No Middle Ground: Women and Radical Protest (1998), coauthor of The Road to Poverty: The Making of Wealth and Hardship in Appalachia (2000), and coeditor of Feminism and Antiracism: International Struggles for Justice (2001).