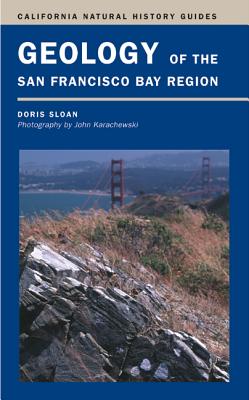 Geology of the San Francisco Bay Region (California Natural History Guides #79) (Paperback)
University of California Press, 9780520241268, 360pp.
Publication Date: June 27, 2006
* Individual store prices may vary.
Description
Why does a bit of ocean floor lie on top of Mt. Diablo? Why is Red Rock, that small, knobby island in San Francisco Bay, red? Why is Loma Prieta high? This book is for San Francisco Bay Area residents and visitors who want to explore the geologic world of this spectacular area, to learn about its shapes, colors, and rocky foundations. Doris Sloan illuminates the colorful geologic mosaic that surrounds San Francisco Bay and lucidly explains the complex and fascinating processes that have forged it over millions of years.

In a lively and engaging style, Sloan describes forces such as the movement of tectonic plates, erosion, the waves on the coast, and human activity. She provides background information on the processes, time frame, and rocks that are the key to understanding the Bay Area landscape and geologic history, then turns to distinct regions of the Bay Area and to San Francisco Bay itself.

* Superbly illustrated with 139 color photographs, 41 drawings, and 29 maps

* Covers Alameda, Contra Costa, Marin, Napa, San Francisco, San Mateo, Santa Clara, Solano, and Sonoma counties

* Gives clear, nontechnical explanations of complex topics including plate tectonics and the Bay Area's fault systems

* Suggests locales in parks and open space preserves to view Bay Area geology in action
About the Author
Doris Sloan is Adjunct Professor in the Department of Earth and Planetary Science at the University of California, Berkeley.