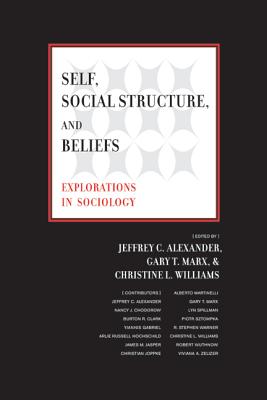 Self, Social Structure, and Beliefs (Paperback)
Explorations in Sociology
University of California Press, 9780520241374, 286pp.
Publication Date: September 20, 2004
* Individual store prices may vary.
Description
Teacher, scholar, and leader, Neil Smelser stands as an iconic figure in sociology in the second half of the twentieth century. The essays in this volume, written by prominent scholars from all walks of the social sciences, reveal the range and depth of Smelser's influence—and his substantial contributions to diverse fields such as British history, social change, collective behavior, higher education, the economy, and psychoanalysis.

Contributors: Jeffrey C. Alexander, Nancy J. Chodorow, Burton R. Clark, Yiannis Gabriel, Arlie Russell Hochschild, James M. Jasper, Christian Joppke, Alberto Martinelli, Gary T. Marx, Lyn Spillman, Piotr Sztompka, R. Stephen Warner, Christine L. Williams, Robert Wuthnow, Viviana A. Zelizer
About the Author
Jeffrey C. Alexander is Professor and Chair of Sociology at Yale University and the author most recently of The Meanings of Social Life: A Cultural Sociology. Gary T. Marx is Professor Emeritus at the Massachusetts Institute of Technology and is the author of Undercover: Police Surveillance in America, among other works. Christine L. Williams is Professor of Sociology at the University of Texas, Austin, and author of Gender Differences at Work and Still a Man's World.