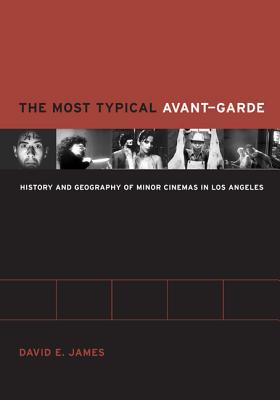 The Most Typical Avant-Garde
History and Geography of Minor Cinemas in Los Angeles
Paperback

* Individual store prices may vary.
Description
Los Angeles has nourished a dazzling array of independent cinemas: avant-garde and art cinema, ethnic and industrial films, pornography, documentaries, and many other far-flung corners of film culture. This glorious panoramic history of film production outside the commercial studio system reconfigures Los Angeles, rather than New York, as the true center of avant-garde cinema in the United States. As he brilliantly delineates the cultural perimeter of the film business from the earliest days of cinema to the contemporary scene, David James argues that avant-garde and minority filmmaking in Los Angeles has in fact been the prototypical attempt to create emancipatory and progressive culture.

Drawing from urban history and geography, local news reporting, and a wide range of film criticism, James gives astute analyzes of scores of films—many of which are to found only in archives. He also looks at some of the most innovative moments in Hollywood, revealing the full extent of the cross-fertilization the occurred between the studio system and films created outside it. Throughout, he demonstrates that Los Angeles has been in the aesthetic and social vanguard in all cinematic periods—from the Socialist cinemas of the early teens and 1930s; to the personal cinemas of psychic self-investigation in the 1940s; to attempts in the 1960s to revitalize the industry with the counterculture's utopian visions; and to the 1970s, when African Americans, Asian Americans, Latinos, women, gays, and lesbians worked to create cinemas of their own. James takes us up to the 1990s and beyond to explore new forms of art cinema that are now transforming the representation of Southern California's geography.
University of California Press, 9780520242586, 562pp.
Publication Date: May 30, 2005
About the Author
David E. James, Professor in the School of Cinema-Television at the University of Southern California, is author of Power Misses: Essays across (Un)Popular Culture (1996) and Allegories of Cinema: American Film in the Sixties (1989), among other books.