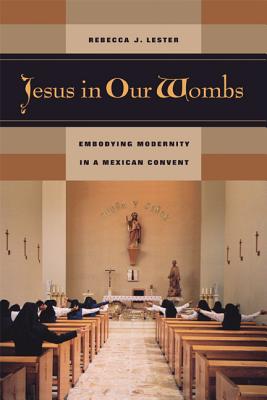 Jesus in Our Wombs
Embodying Modernity in a Mexican Convent (Ethnographic Studies in Subjectivity #5)
Paperback

* Individual store prices may vary.
Description
In Jesus in Our Wombs, Rebecca J. Lester takes us behind the walls of a Roman Catholic convent in central Mexico to explore the lives, training, and experiences of a group of postulants—young women in the first stage of religious training as nuns. Lester, who conducted eighteen months of fieldwork in the convent, provides a rich ethnography of these young women's journeys as they wrestle with doubts, fears, ambitions, and setbacks in their struggle to follow what they believe to be the will of God. Gracefully written, finely textured, and theoretically rigorous, this book considers how these aspiring nuns learn to experience God by cultivating an altered experience of their own female bodies, a transformation they view as a political stance against modernity.

Lester explains that the Postulants work toward what they see as an "authentic" femininity—one that has been eclipsed by the values of modern society. The outcome of this process has political as well as personal consequences. The Sisters learn to understand their very intimate experiences of "the Call"—and their choices in answering it—as politically relevant declarations of self. Readers become intimately acquainted with the personalities, family backgrounds, friendships, and aspirations of the Postulants as Lester relates the practices and experiences of their daily lives. Combining compassionate, engaged ethnography with an incisive and provocative theoretical analysis of embodied selves, Jesus in Our Wombs delivers a profound analysis of what Lester calls the convent's "technology of embodiment" on multiple levels—from the phenomenological to the political.
University of California Press, 9780520242685, 358pp.
Publication Date: April 4, 2005
About the Author
Rebecca J. Lester is Assistant Professor of Anthropology at Washington University.