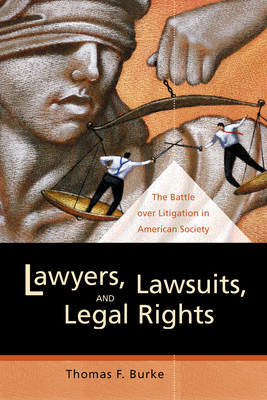 Lawyers, Lawsuits, and Legal Rights (Paperback)
The Battle over Litigation in American Society (California Series in Law, Politics, and Society #2)
University of California Press, 9780520243231, 277pp.
Publication Date: October 12, 2004
* Individual store prices may vary.
Description
Lawsuits over coffee burns, playground injuries, even bad teaching: litigation "horror stories" create the impression that Americans are greedy, quarrelsome, and sue-happy. The truth, as this book makes clear, is quite different. What Thomas Burke describes in Lawyers, Lawsuits, and Legal Rights is a nation not of litigious citizens, but of litigious policies—laws that promote the use of litigation in resolving disputes and implementing public policies. This book is a cogent account of how such policies have come to shape public life and everyday practices in the United States.

As litigious policies have proliferated, so have struggles to limit litigation—and these struggles offer insight into the nation's court-centered public policy style. Burke focuses on three cases: the effort to block the Americans with Disabilities Act; an attempt to reduce accident litigation by creating a no-fault auto insurance system in California; and the enactment of the Vaccine Injury Compensation Act. These cases suggest that litigious policies are deeply rooted in the American constitutional tradition. Burke shows how the diffuse, divided structure of American government, together with the anti-statist ethos of American political culture, creates incentives for political actors to use the courts to address their concerns. The first clear and comprehensive account of the national politics of litigation, his work provides a new way to understand and address the "litigiousness" of American society.
About the Author
Thomas F. Burke is Assistant Professor at Wellesley College and Research Fellow with the Robert Wood Johnson Foundation Scholars in Health Policy Program at the University of California, Berkeley.