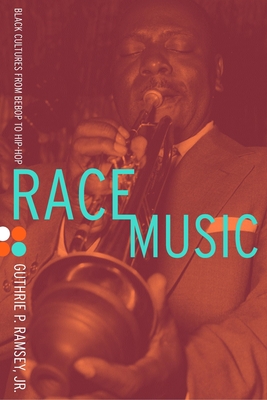 Race Music
Black Cultures from Bebop to Hip-Hop (Music of the African Diaspora #7)
Paperback

* Individual store prices may vary.
Other Editions of This Title:
Hardcover (6/1/2003)
Description
This powerful book covers the vast and various terrain of African American music, from bebop to hip-hop. Guthrie P. Ramsey, Jr., begins with an absorbing account of his own musical experiences with family and friends on the South Side of Chicago, evoking Sunday-morning worship services, family gatherings with food and dancing, and jam sessions at local nightclubs. This lays the foundation for a brilliant discussion of how musical meaning emerges in the private and communal realms of lived experience and how African American music has shaped and reflected identities in the black community. Deeply informed by Ramsey's experience as an accomplished musician, a sophisticated cultural theorist, and an enthusiast brought up in the community he discusses, Race Music explores the global influence and popularity of African American music, its social relevance, and key questions regarding its interpretation and criticism.

Beginning with jazz, rhythm and blues, and gospel, this book demonstrates that while each genre of music is distinct—possessing its own conventions, performance practices, and formal qualities—each is also grounded in similar techniques and conceptual frameworks identified with African American musical traditions. Ramsey provides vivid glimpses of the careers of Dinah Washington, Louis Jordan, Dizzy Gillespie, Cootie Williams, and Mahalia Jackson, among others, to show how the social changes of the 1940s elicited an Afro-modernism that inspired much of the music and culture that followed.

Race Music illustrates how, by transcending the boundaries between genres, black communities bridged generational divides and passed down knowledge of musical forms and styles. It also considers how the discourse of soul music contributed to the vibrant social climate of the Black Power Era. Multilayered and masterfully written, Race Music provides a dynamic framework for rethinking the many facets of African American music and the ethnocentric energy that infused its creation.
Praise For Race Music: Black Cultures from Bebop to Hip-Hop (Music of the African Diaspora #7)…
"Through a historical yet anecdotal treatment, Ramsey explores the rich milieu of messages imbedded in black music through the 20th century. His breakthrough is his effort to find the meanings of the music through explorations of memory, history and theory. . . . Ramsey weaves his own rich musical history through the text."
— Washington Post Book World
"By combining an analysis of family dynamics, communal spaces, and intellectual practice, Ramsey offers an important framework and new direction for scholars interested in exploring contemporary black music forms and cultural practices."
— Journal of African History
"[Guthrie's] sophisticated understanding of current ethnological, musicological, literary and historical theories—as well as a clear and engaging writing style remarkably free of theoretical jargon—explores a central theme: the 'subjective understanding of black music as shaped continually by community sensibilities.'"
— Publishers Weekly
"While Ramsey clearly intends Race Music for an academic audience and assumes a body of knowledge both of theory and repertoire only such a group of readers would possess, he drafts his comments in a sufficiently accessible voice so as not to intimidate a less well equipped reader. Part of that accessibility results from the adoption of a kind of call-and-response pattern of his own between the abstractions of scholarly discourse and the concrete illustrations embodied by his "ethno-memoir" and the conversations conducted with his relatives. Therefore, interested readers who wish an instructive and entertaining introduction to the possibilities of popular music studies would benefit from perusing Ramsey's work. It embodies both the virtues and the rewards of the "new musicology," specifically the rearticulation of social experience in the form of musical expression."
— American Quarterly
"[An] interesting contribution to the ongoing debate on the origins and the specificities of African-American music. . . [that] brings new data and reflections on the interactions between musical creativity and sociopolitical context, as well as on the role of ideology in musical categorization. . . . insist[ing] on the diversity of African-American music . . . [as well as] demonstrating that it has never been stable and homogeneous."
— Journal of the American Musicological Society
"Race Music is a powerful study—sweeping and yet scrupulous—of how black communities have transcended time, change, and genre by passing down musical knowledge and tradition between generations that have created a succession of globally influential musics. Equally appropriate for both music and cultural studies collections, this masterwork belongs on the shelves of every academic library."
— Library Journal
"Ramsey clearly writes from a deep understanding of the roots of this music; it is comforting to read a critic who isn't afraid to live the subject he breaks down . . . for an understanding of race music and the science of its creation, this book could not come with higher marks."
— Rain Taxi Review of Books
"To an outsider it is an eye opener to read just how varied the musical scene was in the 1960s in the black experience, just in religious context alone . . . . The idea that it all stems from the blues from the southern states and that the newly migrated black population in places like Chicago simply carried on that tradition—could it be that Afro American music is just a hybrid of all it encounters? These issues and many others are debated in this serious, informative yet very readable volume."
— Beat Scene
"A very interesting treatment of African-American music of the last half of the 20th century."
— Charleston Post & Courier
"Race Music . . . provides a framework for rethinking the facets of African-American music and the ethnocentric energy that birthed it."
— Black Beat
University of California Press, 9780520243330, 294pp.
Publication Date: November 22, 2004
About the Author
Guthrie P. Ramsey, Jr. is a musicologist, pianist, composer and the Edmund J. and Louise W. Kahn Term Professor of Music at the University of Pennsylvania.