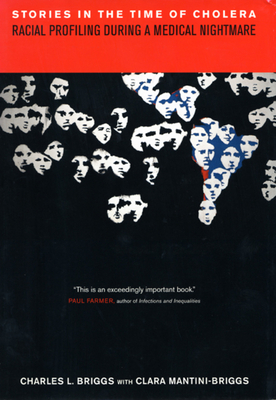 Stories in the Time of Cholera
Racial Profiling during a Medical Nightmare
Paperback

* Individual store prices may vary.
Description
Cholera, although it can kill an adult through dehydration in half a day, is easily treated. Yet in 1992-93, some five hundred people died from cholera in the Orinoco Delta of eastern Venezuela. In some communities, a third of the adults died in a single night, as anthropologist Charles Briggs and Clara Mantini-Briggs, a Venezuelan public health physician, reveal in their frontline report. Why, they ask in this moving and thought-provoking account, did so many die near the end of the twentieth century from a bacterial infection associated with the premodern past?

It was evident that the number of deaths resulted not only from inadequacies in medical services but also from the failure of public health officials to inform residents that cholera was likely to arrive. Less evident were the ways that scientists, officials, and politicians connected representations of infectious diseases with images of social inequality. In Venezuela, cholera was racialized as officials used anthropological notions of "culture" in deflecting blame away from their institutions and onto the victims themselves. The disease, the space of the Orinoco Delta, and the "indigenous ethnic group" who suffered cholera all came to seem somehow synonymous.

One of the major threats to people's health worldwide is this deadly cycle of passing the blame. Carefully documenting how stigma, stories, and statistics circulate across borders, this first-rate ethnography demonstrates that the process undermines all the efforts of physicians and public health officials and at the same time contributes catastrophically to epidemics not only of cholera but also of tuberculosis, malaria, AIDS, and other killers. The authors have harnessed their own outrage over what took place during the epidemic and its aftermath in order to make clear the political and human stakes involved in the circulation of narratives, resources, and germs.


Praise For Stories in the Time of Cholera: Racial Profiling during a Medical Nightmare…
"This is a powerful book, sweeping in scope, rich in detail, and disturbing in content. Briggs and Mantini-Briggs have written a book that will become a classic in anthropology for its innovative documentation of the causes and consequences of "medical profiling," its multiyear and multi- site methods, its solid and impressive ethnography, and its damning indictment of good intententions."
— American Anthropologist
"Charles and Clara (Mantini) Briggs powerfully unveil the complexity of the early 1990s cholera epidemic . . . [their book is] sophisticated and informative."
— Latin American Research Review
"Focusing on the 1992-1993 cholera epidemic of Venezuela, Charles Briggs (with Clara Mantini-Briggs) has written a thorough, forceful, and at times harrowing reminder that infectious diseases are still present and can be quickly devastating."
— Contemporary Sociology
"This epidemic and its aftermath are brilliantly analyzed in this provocative book. . . . rich in data, perspectives, and analytical linkagages."
— Journal of American Folklore
"The book's careful examination of lay, political and scientific texts supports the idea that narratives are important to the social construction of difference. Second, the book incorporates gracefully the voice of the narrators—the researchers. There are fascinating encounters of the authors—an American medical anthropologist and a Venezuelan public health physician—with cholera. . . . Written with passion and intelligence, this book deserves to be read by a broad audience."
— Science & Society
"What makes this book exceedingly important is that the authors have been able to present a clear juxtaposition of different narratives. . . . This book should be on the reading list of anyone who is concerned with issues of racism, equity, and the well being of marginalized populations."
— The Americas
"This book illustrates the power of narrative to shape public opinion and public policy, and ultimately to determine life and death."
— Western Folklore
University of California Press, 9780520243880, 456pp.
Publication Date: September 24, 2004
About the Author
Charles L. Briggs is the Alan Dundes Distinguished Professor and Professor and Professor of Anthropology at the University of California, Berkeley, and most recently coauthored Voices of Modernity (with Richard Bauman, 2003). Clara Mantini-Briggs, M.D. M.P.H., is an Associate Researcher in the Department of Demography and is affiliated with the PhD Program in Medical Anthropology at the University of California, Berkeley and the Director of Fundación para las Investigaciones Aplicadas Orinoco, which conducts research and initiates programs aimed at improving health conditions in Delta Amacuro, Venezuela.