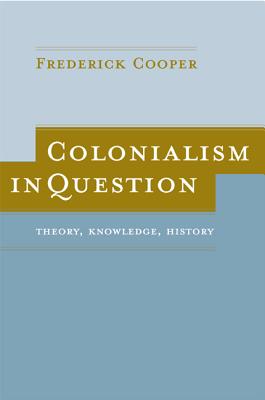 Colonialism in Question
Theory, Knowledge, History
Paperback

* Individual store prices may vary.
Description
In this closely integrated collection of essays on colonialism in world history, Frederick Cooper raises crucial questions about concepts relevant to a wide range of issues in the social sciences and humanities, including identity, globalization, and modernity. Rather than portray the past two centuries as the inevitable movement from empire to nation-state, Cooper places nationalism within a much wider range of imperial and diasporic imaginations, of rulers and ruled alike, well into the twentieth century. He addresses both the insights and the blind spots of colonial studies in an effort to get beyond the tendency in the field to focus on a generic colonialism located sometime between 1492 and the 1960s and somewhere in the "West." Broad-ranging, cogently argued, and with a historical focus that moves from Africa to South Asia to Europe, these essays, most published here for the first time, propose a fuller engagement in the give-and-take of history, not least in the ways in which concepts usually attributed to Western universalism—including citizenship and equality—were defined and reconfigured by political mobilizations in colonial contexts.
University of California Press, 9780520244146, 339pp.
Publication Date: June 6, 2005
About the Author
Frederick Cooper, Professor of History at New York University, is author of Africa since 1940: The Past of the Present (2002) and coeditor, with Ann Laura Stoler, of Tensions of Empire: Colonial Cultures in a Bourgeois World (California, 1997), among other books.