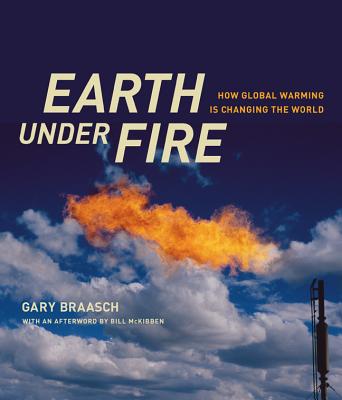 Earth Under Fire
How Global Warming Is Changing the World
Hardcover

* Individual store prices may vary.
Description
Six years ago, award-winning photojournalist Gary Braasch began an extraordinary journey around the world to observe and document environmental changes resulting from the warming of our climate. In this stunning, eye-opening book, he brings us along to witness firsthand what he saw as he crossed both the Antarctic and Arctic Circles, trekked above 15,000 feet in the Andes, dove on damaged coral reefs, and followed scientists into the field on four continents. In more than one hundred photographs, including dramatic before-and-after comparisons, Braasch records communities, landscapes, and animals at risk because of receding glaciers, eroding coastlines, rising sea levels, and thawing permafrost. In the accompanying text he surveys the science behind climate change and introduces native people, lifelong observers, scientists, and others who are noticing striking changes right now. Alongside Braasch's compelling words and images, essays by eminent scientists discuss the impacts of climate change on the oceans, biodiversity, fresh water, mountain cultures, plants and animals, and our health. More than a warning, Earth under Fire, the most complete illustrated guide to the effects of climate change now available, offers an upbeat and intelligent account of how we can lessen the effects of our near total dependence on fossil fuel using technologies and energy sources already available.
University of California Press, 9780520244382, 267pp.
Publication Date: October 1, 2007
About the Author
Gary Braasch is an Ansel Adams Award-winning photojournalist and a fellow of the International League of Conservation Photographers. He contributes to Time, US News and World Report, Smithsonian, Discover, Natural History, LIFE, Scientific American, GEO, American Photo, the BBC News website and other publications. He is the author of Photographing the Patterns of Nature and coauthor of Secrets of the Old-Growth Forest, Entering the Grove, and Northwest.
or
Not Currently Available for Direct Purchase