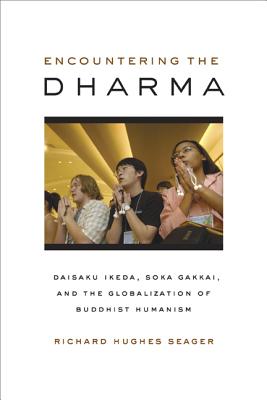 Encountering the Dharma (Paperback)
Daisaku Ikeda, Soka Gakkai, and the Globalization of Buddhist Humanism
University of California Press, 9780520245778, 268pp.
Publication Date: March 16, 2006
* Individual store prices may vary.
Description
This engaging, deeply personal book, illuminating the search for meaning in today's world, offers a rare insider's look at Soka Gakkai Buddhism, one of Japan's most influential and controversial religious movements, and one that is experiencing explosive growth around the world. Unique for its multiethnic make-up, Gakkai Buddhists can be found in more than 100 countries from Japan to Brazil to the United States and Germany. In Encountering the Dharma, Richard Seager, an American professor of religion trying to come to terms with the death of his wife, travels to Japan in search of the spirit of the Soka Gakkai. This book tells of his journey toward understanding in a compelling narrative woven out of his observations, reflections, and interviews, including several rare one-on-one meetings with Soka Gakkai president Daisaku Ikeda. Along the way, Seager also explores broad-ranging controversies arising from the Soka Gakkai's efforts to rebuild post-war Japan, its struggles with an ancient priesthood, and its motives for propagating Buddhism around the world. One turning point in his understanding comes as Ikeda and the Soka Gakkai strike an authentically Buddhist response to the events of September 11, 2001.
About the Author
Richard Hughes Seager, Associate Professor of Religion at Hamilton College, is author of Buddhism in America, The World's Parliament of Religions: The East/West Encounter, Chicago, 1893, and The Dawn of Religious Pluralism: Voices from the World's Parliament of Religions, 1893.
or
Not Currently Available for Direct Purchase