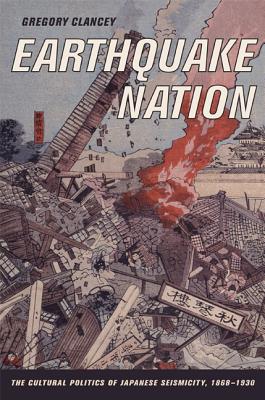 Earthquake Nation (Hardcover)
The Cultural Politics of Japanese Seismicity, 1868-1930
University of California Press, 9780520246072, 346pp.
Publication Date: May 1, 2006
* Individual store prices may vary.
Description
Accelerating seismic activity in late Meiji Japan climaxed in the legendary Great Nobi Earthquake of 1891, which rocked the main island from Tokyo to Osaka, killing thousands. Ironically, the earthquake brought down many "modern" structures built on the advice of foreign architects and engineers, while leaving certain traditional, wooden ones standing. This book, the first English-language history of modern Japanese earthquakes and earthquake science, considers the cultural and political ramifications of this and other catastrophic events on Japan's relationship with the West, with modern science, and with itself. Gregory Clancey argues that seismicity was both the Achilles' heel of Japan's nation-building project—revealing the state's western-style infrastructure to be surprisingly fragile—and a new focus for nativizing discourses which credited traditional Japanese architecture with unique abilities to ride out seismic waves. Tracing his subject from the Meiji Restoration to the Great Kant Earthquake of 1923 (which destroyed Tokyo), Clancey shows earthquakes to have been a continual though mercurial agent in Japan's self-fashioning; a catastrophic undercurrent to Japanese modernity. This innovative and absorbing study not only moves earthquakes nearer the center of modern Japan change—both materially and symbolically—but shows how fundamentally Japan shaped the global art, science, and culture of natural disaster.
About the Author
Gregory Clancey, Associate Professor of History at the National University of Singapore, is editor, with Alan Chan and Loy Hui-chieh, of Historical Perspectives on East Asian Science, Technology, and Medicine (2002) and editor, with M.R. Smith, of Major Problems in the History of American Technology (1998).
Praise For Earthquake Nation: The Cultural Politics of Japanese Seismicity, 1868-1930…
"It eloquently charts the rise of two nascent disciplines—architecture and seismology—through the final quarter of the 19th century. . . In fine detail, he charts the economic, social, and political factors that allowed a new, controversial science to take root in a remarkable and unique cultural melting pot. Driving a subplot of the book are the contrasting earthquake ethnographies that continue to subtly underpin 'Eastern' and 'Western' perspectives on seismology and seismic engineering. Center stage, one finds the careful dissection of a remarkable period of history during which much of what we know of as modern earthquake science came to be."
— Science
"An imaginative and engaging book . . . Clancey's findings will compel readers to consider anew how the environment . . . can shape institutions, transnational relations, architectural forms, academic and professional discourse, and the creation and dissemination of knowledge. . . . A groundbreaking study."
— Monumenta Nipponica
"Gregory Clancey provides a rich account of the beginnings of seismology and consciously earthquake-resistant construction in Japan during the late nineteenth and early twentieth centuries."
— Isis
"Unforgettable . . . . eye opening . . . . Artfully written, this book is a historical page turner that will intrigue both academic and general readers."
— History In Review
"It is a significant contribution to the scholarship on Meiji Japan and on Japanese architectural, technological and scientific history."
— East Asian Science, Technology, and Medicine
"...a highly original work of scholarship, lucid and thought-provoking."
— New Zealand Journal Of Asian Studies